Nowe płyty z EPITAPH.
2005-05-09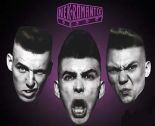 Psychobilly'owy NEKROMANTIX chyba na dobre związał się z wytwórnią HELLCAT RECORDS (EPITAPH). Duńczycy po wydaniu w tej firmie 2 albumów "Return Of The Loving Dead" (2002) i "Dead Girls Don't Cry" (2004) przygotowują wznowienie krążka "Brought Back To Life" wydanego pierwotnie w 1994 roku i dzisiaj bardzo trudno dostępnego. Płyta powinna pojawić się w sklepach 10 lipca 2005.

Na 10 maja wytwórnia Hellcat zaplanowała premierą nowego, pełnowymiarowego albumu bostońskich streetpunkowców THE UNSEEN. Płyta "State of Discontent" wyprodukowana została przez Ken'a Casey'a (Dropkick Murphys), a mixami zajął się Brett Gurewitz (Bad Religion). Wkrótce kolejne nowe nagrania UNSEEN pojawią sie także na split 7" gdzie bostończycy znajdą sie obok grupy HAMMERLOCK. Płytkę wyda firma TKO Records.
Inne tytuły zapowiadane przez EPITAPH i HELLCAT to:
YOUTH GROUP "Skeleton Jar"
DEATH BY STEREO "Death For Life"
SKŁADANKA "Punk-O-Rama vol. 10"
MOTION CITY SOUNDTRACK "Commit This To Memory"
LEFT ALONE "Lonely Stars & Broken Hearts"
Więcej: www.epitaph.com, www.hell-cat.com