Nowe DVD z Cherry Red Records
2006-06-07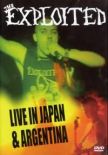 Lata mijają, a popularność ekipy Wattie'go nie słabnie czego dowiodły choćby ostatnie polskie koncerty The Exploited. Zespół ten doczekał się właśnie kolejnego (trzeciego już) wydawnictwa DVD wydanego przez Cherry Red Records.

Firma ta wydała zapis koncertów The Exploited z Japonii i Argentyny. Częśc poświecona wizycie zespołu w Kraju Kwitnącej Wiśni zarejestrowana została podczas tournee grupy w czerwcu 1991 roku i prezentuje mało znany koncert z klubu Citta w Kawasaki.
Argentyńska część wydawnictwa to równie atrakcyjny i mało znany występ Exploited z Buenos Aires zarejestrowany w marcu 1993 roku.
Nie obyło sie oczywiście bez obecności na płycie wielu kultowych hitów grupy zatem fanów nie trzeba będzie długo namawiać do zaopatrzenia się w to wydawnictwo.

To zresztą nie jedyna atrakcja przygotowana ostatnio przez Cherry Red bo równolegle pojawiły sie także m.in:

- pierwsze oficjalne DVD brytyjskiej formacji GOLDBLADE (wywiad z zespołem w nowym - 24 - numerze Garażu) pt. "Testify". Materiał na tej płycie to w wiekszości zapis koncertu grupy z angielskiego Blackpool z 2005 roku plus promo wideo do kilku utworów.

- "Holy Hack Jack", drugie wydawnictwo DVD z DEMENTED ARE GO w roli głównej wydane przez Cherry Red. Po sukcesie pierwszej płyty wytwórnia postawnowiła przekazać fanom, kolejna porcję wściekłego, krwistego rock'n'rolla wykonywanego przez ten kultowy band. Płyta DVD zawiera obszerny występ zespołu z festiwalu w hiszpańskiej Calleli w 2004 roku, który uzupełniono nie mniej obrszernym występem w Leicester z 1998 roku oraz dwoma utworami z Morecombe 1998. Jeśli ktoś widział DAG na żywo dorwie tą płytę za wszelką cenę, a jeśli nie miał takiej okazji to powinien zrobić to jeszce szybciej...