Nowa Rejestracja i hołd dla zespołu Moskwa... Nowe wydawnictwa HRPP Records
2015-04-02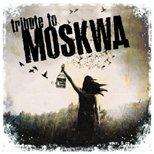 Toruńska Rejestracja przeżywa drugą młodość w bydgoskim wydawnictwie płytowym związanym z pubem Pamela. Po regularnym debiucie studyjnym w 2009 roku (sic!) "Uwolnij Się" (stare kawałki, nagrane na nowo) i CD "Live HRPP" z 2010, przyszła pora na świeży materiał "Szkoda słów".

Co prawda Rejestracja ma w połowie nowy skład, ale na płycie pojawia się oryginalny gitarzysta Tomasz "Murek" Murawski, który zagrał gościnnie w kilku utworach. Teksty i śpiew to oczywiście Grzegorz "Gelo" Sakerski, a perkusja Tomasz Siatka. Nowi członkowie to gitarzysta Maciej "Gregas" Gregorczyk i basista Maciej "Maciuch". Podczas pracy w toruńskim studiu Eden, Rejestracja nagrała 15 nowych piosenek, z czego 14 znalazło się na płycie CD. Brakujący utwór "Stadion" został opublikowany na winylowej EP-ce, obok 4 kawałków z CD.

Zamów ---> CD REJESTRACJA - Szkoda słów
              ---> EP REJESTRACJA - Teraz wiem

Tribute To Moskwa to wydawnictwo, które pojawiło się w tym samym czasie co nowa płyta Rejestracji i także warto szukać CD i winylowej "siódemki". Na kompakcie wydanym w digipacku znalazło się 16 interpretacji kawałków legendy punk rocka lat 80-tych w róznorodnych wersjach. Od punk rocka, przez reggae, po ska i folk. Wsród wykonawców m.in. R.U.T.A., Castet, Rejestracja, Vavamufin, Absurd czy Maleo Reggae Rockers.

Na stronie A "siódemki" 2 kawałki obecne na CD, a na stronie B znalazly się 2 wersje niepublikowane na kompaktowej edycji "Tribute To Moskwa".
Do siódemki dołączony jest CD z materiałem singlowym, wydany w kartonikowej okładce.

Zamów ---> CD "Tribute to Moskwa"
              ---> EP "Tribute to Moskwa"