Niemiecka grupa SHARK SOUP debiutuje w BYO Records.
2005-05-31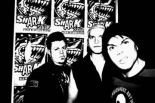 Niemiecka (śpiewająca po angielsku) grupa SHARK SOUP mająca na swoim koncie trzy EP-ki wydana w Europie do tego stopnia urzekła przedstawicieli amerykańskiej wytwórni BYO Records, że trafiła do grona wykonawców związanych z ta firmą co latem zaowocuje debiutanckim albumem "Fatlip Showbox".
Muzyka SHARK SOUP to rewelacyjne połączenie rockabilly w stylu Stray Cats z wczesnym punk rockiem. Grupa niekiedy kojarzy sie z Living End ale daleka jest od kopiowania stylu australijczyków korzystając w swojej muzyce z wielu wpływów.

Nie bez powodu zespół zaproszono do obecności w projekcie "Tribute To Stray Cats". Płyta zawierająca jedno nagranie Shark Soup pojawi sie latem wydana przez jedną z amerykańskich wytwórni. Natomiast niemiecka firma Trash 2001 Records przymierza się do wydania albumu z coverami BLONDIE. Na tym wydawnictwie Shark Soup pojawią sie ze swoją wersją utworu "Denis".
Po wydaniu Debiutanckiego albumu zespół planuje serię koncertów w Europie, które rozpoczną się dużym tourem po wielkiej Brytanii.