Najnowsze premiery JIMMY JAZZ RECORDS.
2005-07-14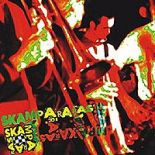 Dostępne są juz w naszym sklepie najnowsze pozycje wydane przez Jimmy Jazz Records.
Pierwszy tytuł to zapowiadana wcześniej druga część skladanki "Prowadź mnie ulico" zawierającej w większości nagrania premierowe wykonawców związanych z wytwórnią. Więcej informacji na ten temat i zawartość płyty w dziale WIADOMOŚCI.
Krązek, podobnie jak pierwsza część dostępny jest w specjalnej cenie 15 zł. Patrz ---> Sklep.
Druga pozycja to wznowienie abumu SKAMPARARAS "Bawcie się!!" dostępnego dotychczas jedynie na kasecie i w wersji importowanej na CD (krązek pierwotnie ukazał się w Czechach).
Obecna edycja wzbogacona została teledyskiem do utworu "Naturalny dźwięk".
Patrz ---> Sklep.