Najbliższe plany wydawnicze JIMMY JAZZ RECORDS
2005-03-20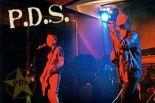 Działania JIMMY JAZZ w nowym roku zainaugurowało pojawienie się nowego numeru GARAŻU. Edycja # 22 zawiera tradycyjnie dodatek w postaci CD, a w środku przeczytać można m.in. wywiady z AGNOSTIC FRONT, LAME DUCKS, POKER FACE, SUCKER'em (ex-Oxymoron), THE VIGILANTES, THE MOVEMENT, FFD, ANTI DREAD, BOTTLEJOB, BULBULATORS, KASTRACJĄ, EYE FOR AN EYE, poznać historię THE BIPS, THE ADICTS, 999, KEVIN K. & THE REAL KOOL KATS i ostatnią część opowieści o THE SELECTER. Nie zabrakło także kolejnej części PUNKA EGZOTYCZNEGO i masy recenzji. To oczywiście nie wszystko... Resztę pozna każdy kto sięgnie po ten numer pisma...
Już dostępne tegoroczne premiery wytwórni na CD to:
- reedycja drugiego albumu SEX BOMBY "Alkohol"
- nowy album ANTI DREAD "Jeszcze więcej seksistowskich piosenek".
- WC "Archiwum". Pierwsza kompaktowa płyta z archiwalnym materiałem legendarnej punkowej formacji z lat 80-tych.
W następnej kolejności do fanów polskiego punka i hardcore dotrą kolejne albumy, a wśród nich m.in.
- NOWY ŚWIAT. Długo oczekiwany debiut warszawskiej kapeli grającej w stylu punk 77.
- Split CD THE HUNKIES/ EYE FOR AN EYE "To co nas łączy" będący wspólnym wydawnictwem Jimmy Jazz i Pasażera. Gratka dla fanów melodyjnego hardcore.
- PDS. Debiutancki album kapeli z Legionowa o 10-letnim stażu poruszającej się w obszarach muzycznych miedzy punk 77 i tradycyjnym punkiem.
- EFH (Exit From Hell). Drugi album (po raz pierwszy na CD) kapeli łączącej szybki, melodyjny punk z elementami ska.
- BANG BANG. Debiutancki album kapeli w stylu punk 77. Kolejni po PDS legionowscy weterani na swoim pierwszym krążku.
- SKŁADANKA "Prowadź mnie ulico cz. 2". Tym razem zestaw w większości niepublikowanych lub nieznanych nagrań (głównie) zespołów związanych z Jimmy Jazz, a wśród nich m.in. THE ANALOGS, PDS, VESPA, EYE FOR AN EYE, HUNKIES, ANTI DREAD, BANG BANG, EFH.....
W kwietniu 2005 w ręce fanów trafi winylowa płyta z najlepszymi nagraniami THE ANALOGS. Premiera krążka planowana jest na inauguracyjnym koncercie z okazji 10-lecia zespołu, który odbędzie się w ostatni weekend kwietnia w Szczecinie (patrz dział KONCERTY). Niemal równocześnie pojawi się nowy krążek grupy w formacie CD zawierający covery klasyków punka z polskimi tekstami. Wśród nagranych utworów znalazły się m.in. kompozycje 4-SKINS, COCK SPARRER, RAMONES, THE CLASH, LAST RESORT, UNDERTONES, SYMARIP, BUZZCOCKS....

Wkrótce więcej o innych planach wytwórni.