Mixmasta Tatowski i Radrik w Madnessie.
2005-11-25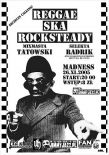 MIXMASTA TATOWSKI to nikt inny jak znany m.in ze współpracy z Garazem Tatinek... mający za sobą wieloletni staz radiowy i audycję Radio Garaz, którą przez wiele lat współtworzył z Dzidkiem. Od dawna parając się zabawianiem lokalnych fanów ska na imprezach muzycznych w Szczecinie zapragnął podbić świat i postanowił zacząć od Wrocławia - bo jak wiadomo stamtąd jest blizej na Jamajke niz ze Szczecina.
Podobny pogląd na sprawę wydaje się mieć RADRIK, którego emerytowani fani ska mogą pamiętać (jeślii łykają Geriavit, jeśli nie to moze być problem) jako wokalistę legendarnej formacji ska Dr. Cycos. Dzisiaj znany bardziej z reggaeowej audycji "Deser" i miksowania jamajskich dźwięków podczas imprez klubowych, postanowił zorganizować z Tatinkiem szczeciński desant na Wrocław...
Zarówno Radrik jak i Tatinek znani są takze z organizacji szczecińskich imprez REGGAE ALL STARS, na których z powodzeniem bawią się setki osób.

Chłopaki posiadając błogosławieństwo firmy Jimmy Jazz Records ujawnią się ze swoimi fascynacjami muzycznymi w klubie MADNESS aby zakręcić zebraną publiką w rytm, ska reggae i rocksteady.
Początek imprezy o 20.00, wjazd 8 zł.