Mini trasa ANTI DREAD i O.D.C.
2005-09-09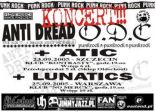 Dwa szczecińskie bandy ANTI DREAD i O.D.C. zagrają w Szczecinie w klubie Kontrasty 23 września, dzień później w Bydgoszczy a następnie w Warszawie.
ANTI DREAD ma na swoim koncie juz dwa albumy (ostatni "Jeszce więcej seksistowskich przebojów" wydany w tym roku), na którcyh (podobnie jak na scenie) prezentuje własną, dynamiczną wizję wczesnego punk rocka opartego o rock'n'rollowe brzmienie. W grupie udzielają się muzycy na codzień stanowiący podporę najlepszej krajowej formacji streetpunk The Analogs.
O.D.C to podobnie zywiołowy, melodyjny punk bez zbędnych udziwnień. Zespół ma na swoim koncie kilka nagrń demo i przygotowuje się do nagrania pierwszego albumu, który wyda Jimmy Jazz Records. Nowy numer pisma Garaz porzygotowywany na koniec września przyniesie wywiad z zespołem i dwa nagrania na ppłycie dołączonej do gazety.
Obie formacje pasują do siebie idealnie i doskonale prezentują się podczas koncertów stanowiac sporą atrakcję dla wszytskich fanów melodyjnego punk rocka.