"Miejskie opowieści" na winylu juz dostępne!!!
2008-08-31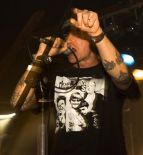 Dostępny jest już w wersji winylowej najnowszy album THE ANALOGS "Miejskie opowieści. Płyta dotarła do nas z lekkim opóźnieniem z powodów technicznych problemów tłoczni, w której powstaała. Niemniej krążek już jest... Czarny winyl, gramatura 140, wypasiona okładka z inną grafiką niż na CD, a do tego jeden utwór, którego nie ma na płycie kompaktowej... to prezent dla tych, którzy zdecydują się sięgnąć po winylową wersję płyty.
Bonusowym kawałkiem jest kompozycja "Ulica złamanych snów", nie publikowana w innym formacie niż na winylu.
Krążek jest już dostępny w naszym sklepie od wielu dni z opcją wysyłki po dotarciu krążka z tłoczni... Od dzisiaj płytę wysyłamy na bieżąco.... Można ją zamawiać w naszym sklepie w dwóch miejscach, cena LP - 35 zł (plus poczta):
Zamów:
---> LP "Miejskie opowieści"
lub
---> LP "Miejskie opowieści"