Mega-fotorelacja z 11-lecia THE ANALOGS.
2006-03-19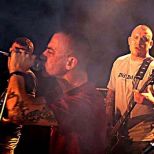 17 marca 2006 THE ANALOGS wzorem roku ubiegłego zorganizowali duzy koncert z okazji kolejnej rocznicy swojego istnienia. Tym razem impreza odbyła się w Łodzi, w klubie Dekompresja, gdzie z okazji 11 lecia Analogsów pojawili sie na scenie gości zaproszeni przez jubilatów.
Koncert przerodził się w mega-maraton punk rocka startując z lekkim opóźnieniem w okolicach godziny 18.30. Najbardziej wytrwali uczestnicy tego wydarzenia opuścili klub po godz. 3 w nocy.

Podczas wieczoru w Dekompresji zaprezentowali się na scenie: Obstrukcja Obsługi, Road Trip's Over, Bilety Do Kontroli, Anti Dread, The Lunatics, P.D.S., Bang Bang, Zbeer, Way Side Crew, Rewizja i The Analogs.

Zapraszamy do działu GALERIA gdzie prezentujemy bardzo obszerną fotorelację z Łodzi. Do obejrzenia 145 fotografii.