MR. SYMARIP + SKAUCI + FAZA
2007-08-23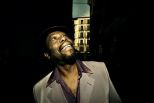 Roy Ellis działający aktualnie pod pseudonimem MR. SYMARIP, były członek (i połowa duetu autorskiego tworzącego dla...) legendarnej grupy skinhead reggae, ska, rocksteady SYMARIP wystąpi w Warszawie 21 września w klubie CDQ.
Początek koncertu o godzinie 20.00. Bilety w cenie 60/75 zł....

Mr. Symarip
Roy Ellis urodził się na Jamajce w Kingston Już jako mały chłopiec występował w chórze Kościoła Ewnagielickiego w Kingston. W latach 60tych wyemigrował do Wielkiej Brytanii, gdzie szybko stał się uznanym wokalistą na scenie muzycznej ska, reggae, gospel, blues, soul.
Roy Ellisa można uznać za pioniera muzyki reggae przełomu lat 60tych i 70tych, a szczególnie sławny stał sie jako założyciel i wokalista w legendarnej kapeli The Pyramids (znanej również jako The Bees, Symarip).
Wszystko zaczęło się w roku 1966 jego talent został odkryty przez Laurela Aitkena, zwanego "Ojcem Chrzestym Ska".Aitken napisał i wyprodukował dla Roya dwie piosenki:"Jesse James rides again" oraz "Because I love You". W tym samym okresie The Bees z Royem Ellisem grającym na puzonie grają koncerty w Wielkiej Brytanii razem z Laurelem Aitkenem, Princem Busterem, Ownem Grayem, Millie Small, The Ethiopians, Desmondem Dekkerem i wieloma innymi artystami reggae. W roku 1968 The Bees zmieniło swą nazwę na The Pyramids, i od tego momentu właśnie o kapeli zrobiło się głośno. Wszystko za sprawą singla: Train Tour To Rainbow City, który przebojem wdarł się na brytyjskie listy przebojów. The Pyramids koncertowali po Wielkiej Brytani i Europie u boku takich gwiazd jak: Pink Floyd, The Who, Emerson Lake & Palmer.
Rok 1969 był przełomowy w karierze Roya Ellisa i The Pyramids. Kapela podpisała kontrakt z wytwórnią Doctor Bird i na fali popularności muzyki skinhead reggae nagrała dla nich na sam początek jeden singiel. Tytuł tego singla: "Skinhead Moonstomp". Każdy prawdziwy fan reggae na pewno zna ten numer. "Moonstomp" szybko stał się hymnem skinheadów końca lat 60tych, do czasów dzisiejszych mający status kultowego. Wydając ten singiel kapela znów zmieniła nazwę, tym razem ze względu na fakt, iż The Pyramids miało podpisany kontrakt z wytwórnią President Records. Nowa nazwa, Symarip jest najbardziej znana większej publiczności i używana jest praktycznie do dziś. Roy Ellis po latach użył tej nazwy przy tworzeniu swojego pseudonimu artystycznego, Mr Symarip. The Pyramids/Symarip była wtedy u szczytu popularności.
W latch 70tych kapela zaczęła ekperymentować z disco, funk i różnymi stylami muzycznymi, lecz nie wyszło to jej na dobre. Symarip koncertował do 1988 roku po całej Europie. W tym właśnie roku członkowie kapeli zdecydowali się rozwiązać zespół.
Ro Ellis występował na scenie cały czas, koncentrując się jedak głównie na muzyce gospel. W roku 2003 do Roya zgłosiło się paru fanów Symarip, pamiętających o latach świetności tej kapeli. Zaproponowali wspólne występy z kapelą Kalles Kaviar. Roy Ellis odkrył, że sława Symarip tak naprawdę nie mineła, jest wiele osób uwielbiających brzmienie wczesnego reggae końca lat 60tych i uważających go za żywą legendę. Nadał sobie przydomek Mr. Symarip i koncertuje do dziś po całym świecie. Rok temu Mr Symarip wydał najnowszy album zatytułowany "Skinhead Dem A Come", nawiązujący do początków muzyki jamajskiej, utrzymany w konwencji ska, reggae, rocksteady.
Skauci
Na poczatku byl punk rock - w 1998 bylo ich trzech i zaczynali od punka z elementami ska. Pierwotna nazwa kapeli, zreszta niezbyt czesto ujawniana, zostala zmieniona po pierwszym betonowym koncercie. Tak wlasnie powstali Skauci - muzyka odbila zdecydowanie w rytmy jamajskie - do zespolu doszla trabka, z czasem klawisze, pózniej drugi wokal i puzon. Razem ze skladem grupy zmieniala sie muzyka. W lipcu 2003 zarejestrowano material na plyte pt. "Skauci", który ostatecznie ukazal sie w marcu 2004 pod bandera Jimmy Jazz Records.
"Nasza muzyka opiera sie na rytmach ska i reggae tak, wiec inspiracji szukamy wsród klasycznych wykonawców tych gatunków poczawszy od lat szescdziesiatych na wspólczesnych kapelach konczac, chociaz wsród coverów mozna znalezc tez wykonawców zgola odmiennych stylów muzycznych. Z racji dawania koncertów, to tu to tam, zwiedzamy raczej pólnocno-wschodnia Polske, ale jesli tylko znajda sie chetni do zabawy, zwroty za podróz, browar i pasowny termin (z tym chyba u nas najgorzej) zagramy gdzie nas zaprosza."
Faza
Cala historia ma swój poczatek w 1993 roku. Wtedy to FAZA 40 i 4 dala swój pierwszy koncert we Wroclawiu. Pod ta nazwa grupa egzystowala przez 4 lata grajac mnóstwo koncertów w Polsce oraz za granica. Faza 40 i 4 zapisala sie w kartach historii polskiego ska dzieki niesmiertelnemu "przejdz sie na pieszo", który to kawalek pojawil sie na skladance "PolSKA Norma" (Rock'n'Roller Editions), oraz piosence "zaskakujacy" (SKAdanka" - wydana przez czasopismo Machina). Do duzych sukcesów grupy nalezy zaliczyc wystepy w Niemczech u boku gwiazd: The Selecter, Monkey Shop, Mother's Pride oraz koncert w Zgorzelcu wraz z nieistniejacym juz Skaferlatine (Francja). W roku 1997 zespól rozpadl sie na skutek permamentych problemów personalnych. Dobre czasy wrócily w 2004 roku, kiedy to perkusista - jednoczesnie zalozyciel FAZY 40 i 4 ponownie skompletowal sklad. Nazwa zostala skrócona, jednakze wciaz nawiazuje do dawnej dzialalnosci co poniektórych czlonków (z oryginalnego skladu pozostaly 3 dusze). Zespól od 2 lat preznie dziala próbujac po raz kolejny dokonac przelomu na polskiej scenie. Do tej pory FAZA nagrala (oraz wydala wlasnym sumptem) demo - singiel "A kto to tak to gra?" , oraz zagrala calkiem niemalo koncertów w tym 2 krótkie trasy koncertowe po Republice Czeskiej oraz Niemczech. Najwazniejsze wystepy to bardzo udany koncert na festiwalu "Mighty Sound" w czeskim Olsi u Tabora (wsród m.in. New York Ska-Jazz Ensamble, Skarface, Yellow Umbrella), oraz na "This is Ska" vol.9 w Rosslau (gdzie obok New York Ska-Jazz Ensamble zagral równiez El Bosso & Die Ping Pongs z Dr.Ring-Dingiem na czele), a takze wspólny koncert z niemieckimi legendami ska: Bluekilla i Skaos, oraz 2 niezwykle udane koncerty w Moskwie. Historia bogata, jednak...to nie koniec. Faza nie spoczywa na laurach. Miejmy nadzieje, ze w nastepnym roku bedziecie mogli uslyszec debiutancki pelny album zespolu...