MISTER X - Kakimi my stali ! (CD + DVD)
2013-05-24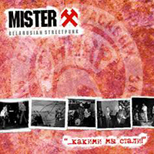 Białoruska formacja MISTER X jest doskonale znana polskim fanom zarówno za sprawą polskiego pochodzenia Igora - wokalisty zespołu, częstych wizyt koncertowych w naszym kraju, dwóch wcześniejszych albumów, w tym jednego wydanego w kooperacji z oficyna No Pasaran, przeróbki kawałka The Analogs z rosyjskim tekstem ale także (i przede wszystkim) za sprawą porywającego, streetpunkowego repertuaru, który bez problemu trafia do serc polskich fanów.
Na nowej płycie zatytułowanej "Kakimi my stali!" MISTER X potwierdza świetną formę prezentując 12 nowych kompozycji w tym po jednym coverze The Business i Iron Cross z rosyjskimi tekstami. Dodatkiem do krażka audio jest płyta DVD zawierająca 10 kawałków grupy zarejestrowanych podczas koncertu.
Nowa album chwyta za gardło i od pierwszej chwili nie pozostawia wątpliwości, że MISTER X są obecnie u nas najlepszą wizytówką białoruskiej sceny niezależnej.

Krążek dostępny jest obecnie w wersji CD+DVD, niemniej wkrótce pojawi sie także w wersji winylowej.

Zamów ---> CD + DVD MISTER X - Kakimi my stali!

Sprawdź ---> CD/ LP MISTER X - Anti... Anti... Anti... Anti...