MICHAEL ROSE & BLACK UHURU + ABYSSINIANS + JOINT VENTURE SOUND SYSTEM
2007-11-14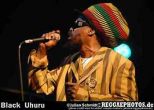 MICHAEL ROSE & BLACK UHURU &
ABYSSINIANS
support: Joint Venture Sound System
25.11, 20:00 klub Proxima, Warszawa
bilety: 79/89 PLN
do nabycia: Ticketpro, Eventim, Ticketonline, Shortcut, kasy Proximy
Będzie to wyjątkowy występ, ponieważ wraz z Black Uhuru znów wystąpi Michael Rose - jeden z największych głosów reggae na świecie. To właśnie okres współpracy z Michaelem Rose uważany jest za najważniejszy w dorobku Black Uhuru.
Po dłuższym czasie związanym z działalnością solo, Michael powrócił do swej macierzystej formacji.
Towarzyszyć im będzie goszcząca po raz pierwszy w Polsce kolejna legenda - The Abyssinians, również z Jamajki.
Przed nami niepowtarzalna okazja zobaczenia na scenie grup, które pisały historię muzyki reggae.
BLACK UHURU
Pojawili się w 1975 roku jako UHURU, co w języku Swahili oznacza "wolność". W pierwszym składzie: Duckie Simpson, Don McCarlos i Garth Dennis, nagrali wersję standardu rhythm'n'bluesowego pt. Folk Song dla wytwórni Dynamics. Niedługo potem trio rozpadło się po odejściu Dennisa do "Wailing Souls" i decyzji Dona Carlosa o podjęciu solowej kariery. Duckie Simson namówił do udziału w grupie Michaela Rosa, znanego ze swego solowego przeboju "Guess Who's Coming To Dinner", który nawiązywał do popularnego filmu o tym samym tytule. Rose stał się głównym wokalistą w zespole i wraz z Simpsonem oraz dokoptowanym z "The Joys" Errolem Nelsonem. nagrali własną wersję pieśni Boba Marleya "Natural Mystic", oraz własny utwór "I Love King Sellasje". Od tego czasu oddanie sprawie Rastafari stało się nieodłączną częścią twórczośi "Black Uhuru". Po odejściu Nelsona jego miejsce zajęła Sandra "Puma" Jones, rodowita Amerykanka z Harlemu, którą im zarekomendował sam Ras Michael. Natychmiast przystąpili do nagrywania własnego materiału na płytę "Showcase", na której znalazły się takie utwory jak "Abortion", "Guess Who's Coming To Dinner" i "General Penitentiary", jednocześnie rozpoczynając niezwykle owocną współpracę z tytanami jamajskiej sceny muzycznej, duetem "Sly and Robbie" W 1980 roku podpisali. kontrakt z wytwórnią Island, Chrisa Blackwella, wydając w niej płytę "Sinsemilla", którą wielu krytyków uważa za największe z dotychczasowych osiągnięć grupy. Wykrystalizował się na niej idiomatyczny styl "Black Uhuru", zarówno muzyczny jak i tekstowy. Rzadko do tej pory doceniana Puma Jones doczekała się pochlebnych ocen u słuchaczy i krytyków. Ich kariera rozwijała się aż do 1985 roku, znaczyły ją pełne sale koncertowe, tysiące sprzedanych płyt i pozycja klasyka gatunku nie tylko w Europie, ale i praktycznie na całym świecie. W 1985 roku odchodzi Michael Rose, a do zespołu zostaje przyjęty nowy leader Junior Reid. Wspólnie z duetem "Sly and Robbie" wydaje płyty "Brutal" i "Brutal Dub" oraz "Positive" i "Positive Dub". W międzyczasie Michael Rose nagrywał solowe płyty i koncertował z powodzeniem z własnym zespołem. Od pewnego czasu ponownie występuje jednak w składzie Black Uhuru.
Black Uhuru gościli już w Polsce bez Michaela Rose w 2003 roku a Michael Rose ze swoim zespołem pojawił się w Polsce na festiwalu "Tam Gdzie Biją Źródła" w Nowym Targu w 2000 roku. /źrodło: Sławomir Gołaszewski "Reggae-Rastafari"/
ABYSSINIANS
Założycielem tego tria wokalnego był Bernard Collins (aka JAH Satta) i śpiewający w chórkach bracia Linford i Donald Manning. Trzeci brat Carltona również śpiewający w zespole znany jest ze współpracy z "Carlton and The Shoes". Obie grupy wydały nawet wspólnego singla z piosenką Sweet Feeling firmując go nazwą "The Abyssinians". Zespól "The Abyssinians" zaczął swoją obecność wydanym w 1969 roku singlem Satta Massa Gana nagranym w Studio One. Gościnnie występował, grający na gitarze basowej, leader "The Heptones" Leroy Sibbles oraz niegdyś występujący w "The Gaylads" gitarzysta, B. B. Seaton. Utwór ten stał się klasykiem muzyki reggae o niedwuznacznym przesłaniu i do dnia dzisiejszego pozostaje na czele profetycznego nurtu twórczości Rasta, dotyczącego powrotu do Ziemi Obiecanej (Satta Massa Gana).
Po tak imponującym debiucie zespół wydał całą kolekcję prawdziwie rewelacyjnych płyt, jak na przykład wydane przez Studio One: Declaration of Rights, Let My Days Be Long czy Poor Jason White, które później ukazały się w ich wtasnej wytworni Clinch, założonym po ich pełnym goryczy odejściu ze Studia One, należącego do bardzo zasłużonego i kontrowersyjnego producenta Clementa S. Dodda ("Sir Coxsone"),
W 1972 roku rozpoczęli współpracę z producentem Lloydem Daleyem znanym również jako "The Origmal Matador". Najważniejszym wydawnictwem z tego okresu było nawiązanie do tematu Satta Massa Gana na Yim Mas Gan, którego tekst zaśpiewali po amharsku. W 1975 ich producentem został, poważnie myślący o wydaniu im longpleya, Geoffrey Chung. Z tych wczesnych sesji przezeń realizowanych datuje się klasyczny już dziś singel Tenayistilin Wandimae, któremu udało się przebić na brytyjskie listy przebojów, co wyraźnie umocniło pozycję zespołu. Stad też reszta nagrań z tej sesji pojawiła się na wydanym 18 miesięcy później na niezwykłej płycie "Forward to Zion".
Od tamtej pory zespół nagrał kilka albumów, które na stałę weszły do kanonu muzyki reggae, m.in. "Forward" i "Reunion". Ich ostatni pełnowymiarowy krążek to "Tree of Satta" nagrany w 2003, firmowany jako The Abyssinians & Friends.
/źrodło: Sławomir Gołaszewski "Reggae-Rastafari"/