MAD SIN + ST. CITY SURFERS + THE PROPELERS + WHITMAN
2009-02-11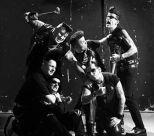 21.02.09, sobota godz: 19:00
Koncert legendy psychobilly !!!
MAD SIN (Berlin)
+ supports:
St. City Surfers
The Propelers
Whitman
CK Wiatrak Zabrze
ul. Wolnosci 395
www.wiatrak.art.pl
Bilety 38/45 pln
Wejscie do klubu od godz: 18.30

MAD SIN - jeden z czołowych europejskich zespołów psychobilly został założony w 1987 roku przez trójkę przyjaciół, zarabiających na życie jako
uliczni muzycy grający rockabilly, bluesa i country. Jeśli spojrzeć na historię zespołu, zadziwia fakt, iż kapela wciąż istnieje, jej członkowie nie pozabijali się nawzajem, lub nie popełnili zbiorowego samobójstwa.
Szalona, bezkompromisowa mieszanka psychobilly i R'n'R.
Zespół został założony w 1987 roku przez Köfte, który kilka dni wcześniej w sposób tajemniczy i mało chwalebny porzucił szkołę, Steina - gitarzystę zafascynowanego Punk rockiem i Rockabilly, a także Holly'ego, który na basie grał zaledwie od czterech tygodni. W początkowej fazie istnienia zespół dawał lokalne koncerty w Berlinie, organizowane głównie przez znajomych i przyjaciół zespołu. Zespół grał również na ulicy w komercyjnych dzielnicach Berlina, bez cienia litości katując turystów standardami Country, Rockabilly i Bluesa. Fani punk rocka i psychobilly żyjący z dnia na dzień na berlińskich ulicach już wkrótce stali się znani dzięki szalonym koncertom w kiepskich barach i na squatach. Już w 1988 roku ukazała się pierwsza klasyczna płyta MAD SIN - Niespodziewanie zespół podpisał pierwszy kontrakt płytowy w 1988 roku, a jego efektem stała się płyta "Chills & Thrills in a Drama of Mad Sin & Mystery" będąca dziś klasykiem nurtu Psychobilly. Pomimo narastających problemów, MAD SIN stawał się coraz bardziej znany. Trasy koncertowe zahaczyły m.in. o Holandię, gdzie za sprawą niezależnej holenderskiej wytwórni Count Orlock, wyszła w 1996 roku ich kolejna płyta "God Save the Sin", na której Rockabilly miesza się z Punk Rockiem, starą szkołą Hardcore i Psychobilly, który szybko stał się głównym stylem zespołu. Koncerty, których było coraz więcej pokazały niewyobrażalną, szaloną i piekielną dynamikę zespołu, który na scenie pokazuje pełnię swoich możliwości. Köfte znany jest z pirotechnicznych fascynacji, więc koncerty MAD SIN okraszone są zianiem żywymi płomieniami itp. Dzięki kolejnym wydawnictwom i wielu koncertom zespół dołączył do czołówki światowej sceny. Wkrótce zaczęli też występować na wspólnych koncertach z tak legendarnymi zespołami jak Faith No More, Gwar, Misfits, Suicidal Tendencies, Meteors i wieloma innymi.
Jako że członkowie MAD SIN nie byli zainteresowani życiem z zasiłków, nie mieli żadnych wątpliwości i dylematów, gdy tylko Polydor zapukał do ich drzwi oferując im kontrakt za "kupę szmalu". Grzesznicy pojechali więc do Hamburga, podpisali kontrakt, po czym udali się na Maltę, by nagrać kolejny album: "Sweet and Innocent?... Loud and Dirty!!!", który wyszedł w 1998 roku. Wtedy przyszedł czas na wielkie koncerty z gwiazdami, festiwale itd. Ale okazało się, że ścieżki MAD SIN i Polydor dość istotnie się rozchodzą: dla Polydor grzesznicy trochę "przesadzali" i nie byli wystarczająco mainstream. Dla zespołu Polydor odstawił prawdziwe jaja, gdy przysłał im kolejną potężną walizkę szmalcu tylko za to, że odejdą z wytwórni. Ale zespół nie przestawał koncertować, zatrudnił kolejnego wariata na drugiej gitarze, Texa Mortona, który wzbogacił brzmienie zespołu i swoim poczuciem humoru przyczynił się do przekroczenia przez MAD SIN kolejnego limitu wyznczanego przez społeczne konwenanse. W latach 1998 - 2002 kapela nieco zwolniła tempo. Muzycy poświęcali się w tym czasie
swoim innym projektom jak Dead Kings, Dusty Gray & His Rough Riding
Ramblers i United Swindlers. Powrót w wielkim stylu nastąpił w 2002 roku
płytą "Survival Of The Sickest" wydaną przez zasłużoną niezależną firmę
"People Like You". Niebywała energia i niesamowity image muzyków sprawiają, że koncert MAD SIN to niezapomniane rock'n'rollowe widowisko.
W odróżnieniu od większości zespołów psychobilly teksty MAD SIN często
dotyczą polityki i problemów społecznych, jednak nawet poważne tematy
podane są z dużą dozą czarnego humoru i stylistyki rodem z horrorów.
Zespół ma obecnie status kultowy i liczne grono fanów na całym swiecie, z których najwierniejsi zrzeszeni są w fan-clubie "Sindicate".
Jeśli pojawia się okazja zobaczenia ich koncertu, nie wahaj się ani chwili!! tym bardziej że grają tylko 2 koncerty w Polsce podczas tej
urodzinowej trasy.
www.madsin.de
www.myspace.com/madsin

Na supporty zaprosiliśmy kapele:

St. City Surfers - kwartet ze świętego miasta serwujący specyficzną mieszanke surf, rockabilly i garage rock. Grają od 2006 roku, na swoim
koncie mają udział w kilkunastu koncertach i festiwalach na tereneie polski u boku czołowych polskich kapel (Bulbulators, Pavulon Twist,
Komety, Vespa, ....) oraz zagranicznych gwiazd (Flaming Cocks, The Silver Shine,...). W 2007 pojawił się ich pierwszy singiel który był zapowiedzią wydanej w 2008 roku własnym nakładem płyty (cd-r) zawierających 9 numerów.
W Ostatnim numerze czasopisma Garaż ukazała się wywiad z "surferami" a na dołaczonej do gazety płyty można usłyszeć dwa ich kawałki.

Zespół Propelers istnieje od 20 kwietnia 2008 w składzie: Chmielo (gitara wokal), Młody (bas chór) i Spisu (perkusja). Zanim stali się Propelersami każdy nich wyniósł bagaż doświadczeń z poprzednich zespołów. Chłopaki starają się wskrzesić wymierający gatunek rockabilly. Koncertują wszędzie gdzie się da, do tej pory w Polsce i w Czechach, z powodzeniem promują rockabilly i mogą się pochwalić coraz większą rzeszą fanów. Wzorują się głównie na Stray Cats, Batmobile, Tiger Army, Mad Sin, ale w ich kawałkach słychać również akcenty punk 77.
Gliwicki WHITMAN
www.myspace.com/whitmansxa