Lesław i Arkus znowu razem...
2010-04-29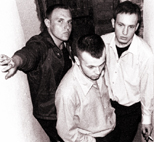 Arkus to współzałożyciel legendarnej Partii i Komet. Przyjaciel Lesława, razem od najmłodszych lat poszukiwali pomysłu na życie. Fascynaci muzyki, fani zapomnianych czy też mniej obecnie granych gatunków muzycznych. W czasach ekspansji popu, muzyki elektronicznej i hip-hopowej postanowili zrobić coś na przekór trendom, udowodnić, że gitary są ciagle żywe, że można grać, zdobywać fanów i tafiać na listy przebojów.

Epoka new rock revolution w wykonaniu Partii przeszła najśmielsze oczekiwania. Tak powstał legendarny już zespoł.
Lesław i Arkus "należeli" do jednej Partii przez 8 lat wydając 4 albumy. Razem też postanowili zawiesić działalnośc zespołu i stworzyć nowy projekt pod nazwą Komety ubarwiając i rozszerzając znacznie formułę muzyczną, w ramach której poruszali się dotychczas. Dwa albumy zatytułowane "Komety" i "Via Ardiente" jakie nagrali wspólnie pod szyldem Komet do dzisiaj stanowią jedne z najbardziej intrygujących i cenionych dokonań sceny alternatywnego rocka w Polsce.

Ponieważ sielanki możliwe są tylko na kartach powieści nadszedł moment kiedy z powodu różnic artystycznych ich ścieżki musiały sie rozejść. Lesław podążał drogą, którą znaczyły kolejne, doskonałe albumy Komet, a Arkus dołączył do warszawskiej formacji Rotofobia.
Od dobrych powieśc oczekuje się też dobrych zakończeń zatem z czasem muzyczne losy starych przyjaciół ponownie się przecięły.

Od kwietnia 2010 Arkus jest znowu obecny w Kometach. Tym samym po dołączeniu jeszcze w zeszłym roku basisty Szewka (członek Partii od 1999) Komety po latach graja w parwdziwie "partyjnym" składzie.

Lesław w bardzo otwarty sposób mówi o swojej decyzji: "Niektorzy uważaja, ze nie powinno się chodzić do łóżka z osobami, ktorych się nie kocha. Ja zrozumiałem, że nie powinno się grać w zespole z osobami, ktorych się nie kocha. Arkusa i Szewkosa kocham nad życie, mimo, że w pewnym momencie z różnych przyczyn nie bylismy w stanie ze sobą współpracować".

Przy okazji personalnych powrotów zamknęło się także koło historii dotyczące nagrań Partii i Komet. Komety od początku istnienia nieprzerwanie współpracują z wytwórnia Jimmy Jazz Records wydając w niej swoje kolejne albumy. W ubiegłym roku wydawca Komet nabył prawa do wszystkich historycznych - a w wielu kręgach uznawanych za kultowe - albumów Partii i poczynając od drugiej połowy bieżącego roku zamierza przypominać je fanom w postaci reedycji. Pierwszym planowanym wydawnictwem będzie winylowy krażek "The Best Of Partia".... ale to juz inna historia, którą dopisze niedaleka przyszłośc.....