Legendarny R.A.P. na czterech kolorach winylu...
2011-06-15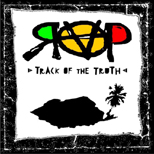 W naszym sklepie dostępny jest już winylowy krażek RAP - legendarnej, gliwickiej formacji regga'e. Płyta dostępna jest na 4 kolorach winylu: czarnym oraz żółtym, czerwonym i zielonym.
Album posiada wkładkę z historią grupy oraz archiwalnymi zdjęciami, a ponadto do każdego egzemplarza płyty dołączona jest nalepka zespołu.
Zapraszamy do sklepu ---> LP RAP "Track of the truth"

                   **************

RAP to gliwicki zespół działający w latach 1985-87 zawiązany na bazie rozpadającej się Śmierci Klinicznej.
Nazwa jest skrótem od sformułowania Reggae Against Politics. Początkowo formacja miała nazywać się jednak R.A.R. (Reggae Against Racism)

- Później skojarzyło mi się, że "rap" znaczy "szturchnąć, dawać komuś po palcach" czy, przenośnie "dać komuś nauczkę" lub "ostro skrytykować". Oznacza również krótki, donośny dźwięk, taki jak na przykład walenie do drzwi – wyjaśnia wokalista, Mercedes.

R.A.P. grał roots reggae z domieszką rockowych wibracji, soulu i funky. Oprócz charakterystycznego stylu, zespół był znany z tego, że niemal wszystkie utwory śpiewano w języku angielskim, a także był pierwszą formacją, w której brzmieniach pojawiły się klasyczne motywy dubowe.

- Moim podstawowym założeniem było śpiewanie roots reggae czyli reggae korzennego. Jeżeli chodzi o religię Rastafari, nigdy nie mieliśmy z tym nic wspólnego. Byliśmy bardziej rude boys - chuligani, ulicznicy. Jakby na to nie patrzeć wyszliśmy z punka. Nasza transformacja z kapeli punkowej w kapelę reggae'ową nie była przypadkowa. Ale nigdy nie chodziło nam o reggae Rastafari – opowiada Jacek Szafir.

Nagrania na płycie pochodzą z sesji jaką zespół zarejestrował w 1986 roku w gliwickim Studio Centrum, jako bonus na płycie pojawia się koncertowa wersja utworu "Front page news" z koncertu Reggae Pod Strzechą '86. Mimo bardzo krókiego istnienia R.A.P. zdążył zyskać sobie miano jednej z największych legend polskiej sceny reggae!