LESŁAW i ADMINISTRATORR.... Druga część 'Piosenek o Warszawie"
2016-03-05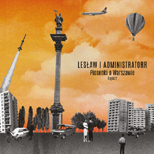 Wydany 3 lata temu przez Jimmy Jazz Records album LESŁAWA I ADMINISTRATORRA zatytułowany "Piosenki o Warszawie" doczekał się kontynuacji. Obaj artyści znani ze swoich głównych projektów muzycznych (Komety, Partia, Administratorr, Administratorr Electro) spotkali się ponownie nagrywając "Piosenki o Warszawie cz. 2", których wydawcą jest firma Thin Man Records. Płyta w wersji CD jest już dostępna a jej wydanie poprzedzone było m.in. teledyskiem do utworu "Tak musiał się czuć Kazimierz Deyna".
Druga część "Piosenek o Warszawie" zawiera 15 kompozycji w których autorzy kontynuują warszawskie podróże muzyczne i gdzie wzorem poprzedniego albumu, pojawia się pokaźne grono specjalnych gości. Tym razem zaproszenie Lesława i Administratorra przyjęli m.in. Pablopavo, Sylwia Hutnik i Marcin  Biernat (Maki i chłopaki)…
Zamów płytę ---> CD LESŁAW I ADMINISTRATORR - Piosenki o Warszawie cz. 2
LESŁAW I ADMINISTRATORR to wspólny projekt muzyczny liderów dwóch warszawskich formacji doskonale znanych fanom krajowej sceny alternatywnej. Zarówno Lesław, liderujący Kometom (a przed laty kultowej Partii), jak i Administratorr, dowodzący własnym projektem o takiej samej nazwie, nie po raz pierwszy sięgnęli po inspirację jaką stanowi dla nich miejsce, w którym tworzą na co dzień.
Pomysł na "Piosenki o Warszawie" zrodził się podczas pierwszego spotkania Lesława z Administratorrem gdy jesienią 2009 roku nagrywali swoje płyty w Studio Serakos, dojrzewając przez lata i nabierając realnych kształtów. Sami twórcy projektu tak mówią o płycie jako o "zderzeniu dwóch spojrzeń na Stolicę - Lesława, rodowitego warszawiaka i Administratorra, który to miasto pokochał".