LEGIONOWO ROCK FESTIWAL vol. III
2007-08-08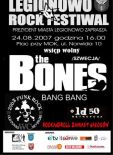 Trzeci LEGIONOWO ROCK FESTIWAL odbędzie się 24 sierpnia w piątek na placu przed Miejskim Ośrodkiem Kultury w Legionowie.
Tegoroczna edycja przebiegnie pod hasłem "Rockandroll zamiast nałogów". Na scenie wystąpią: rockandrollowa formacja THE BONES ze Szwecji, po raz pierwszy w Polsce, legendarna punkowa załoga WC, specjaliści od melodyjnego punk rocka BANG BANG i reaktywowany LD 50.
Początek o godzinie 16.00
WSTĘP WOLNY!!!
ZAPROSZENI SIĘ CZUJCIE!!!
Organizatorzy to:
Miejski Ośrodek Kultury w Legionowie, Referat Zdrowia Publicznego i Spraw Społecznych Urzędu Miasta Legionowo, Starosta Legionowski, Współpraca i patronaty: Dom Handlowy MAXIM, SMLW, KZB, Mazowieckie TO i OWO, Gazeta Powiatowa, Gazeta Miejscowa, ELTV, ANTYRADIO.
Kierownictwo festiwalu Robert Szymański
Zaprasza Prezydent Miasta Legionowo
W poprzednich edycjach wystąpili m. in. The Vibrators /Wielka Brytania/, KSU, Sexbomba, Skampararas, Farben Lehre, Nowy Świat.
Info: www.sexbomba.band.pl/concert_LRFestival_2007.htm
www.moklegionowo.pl/
++++++++++++++++
Początki The Bones sięgają 1996 roku. Od tamtej pory czterem chłopakom z Karlskrone (Szwecja) udało się zagrać setki koncertów w całej Europie i pojawić się na najważniejszych festiwalach.
Drogę do sukcesu otworzył im wydany własnym sumptem debiutancki singiel "Horrorway", którego cały nakład sprzedał się w przeciągu kilku miesięcy. Następnym krokiem był mini album "Six feet down, two fingers up".. W trakcie sesji nagraniowej muzycy z The Bonem otrzymali propozycję od niemieckiej firmy People Like You podpisania kontraktu na wydanie ich kolejnych płyt. Po ukazaniu się ich pierwszego pełno wymiarowego albumu "Screwed, Blued and Tatooed" grupa zaczęła sporo koncertować zdobywając uznanie fanów w całej Europie.
W 2002 roku The Bones nagrali swój drugi album "Bigger Than Jesus" zrealizowany w The Pama Studio a następnie wydany przez People Like You. Płyta spotkała się nie tylko z dobrym przyjęciem w Europie ale także za Oceanem. Zaowocowało to również wspólnymi koncertami z Die Toten Hosen, Motorhead, Roger Miret & The Disasters, 999, Anielic Upstarts, Cockney Rejects , U.S.Bombs i D.A.D.
W 2004 The Bones wystąpili na festiwalowej trasie Eastpak Resistance Tour u boku Sick Of It All, 7 Seconds, Unearth podczas której zagrali znakomicie przyjęty koncert w Krakowie. Ostatnim wydawnictwem The Bones jest mini album "Partners In Crime". Na tej płycie zespół oddaje hołd swoim idolom z lat młodości. Na płycie znalazły się covery m.in. Ramones i Social Distortion.
The Bones występują w składzie: Boner (Gitara prowadząca, wokal), Spooky Fred (perkusja i wokal) , S Ace (bass i wokal) oraz Blef Bonanza (gitara i wokal)
Jak nie trudno zauważyć muzyka i koncerty są dla nich codziennych chlebem i sposobem na życie.
Dyskografia:
* 2000 - Six Feet Down And Two Fingers Up 10"/ MCD (People Like U)
* 2000 - THE BONES / DAYBREAK BOYS - Split Tour 7" (People Like U)
* 2000 - Screwed, Blued & Tattooed LP/CD (People Like U)
* 2002 - Bigger Than Jesus LP/CD (People like U)
* 2003 - Bigger Than Jesus limited PIC LP (People like U)
* 2003 - Screwed, Blued & Tattooed special edition CD (People like U)
* 2004 - Straight Flush Ghetto LP/CD (People Like U)
* 2004 - Straight Flush Ghetto CD (Liquor & Poker)
* 2006 - It`s My Life PIC 7"/SCD (People Like U)
* 2006 - Partners In Crime Vol. 1 10" / MCD (People Like U)