LECH JANERKA gościem specjalnym KOLABONIGHT 2016.... 30 lat Kolaborantów i premiera nowego albumu...
2016-10-01
Jimmy Jazz Records zaprasza na:


30-LECIE KOLABORANTÓW – KOLABONIGHT 2016


Tradycją w działalności szczecińskich Kolaborantów jest organizowanie koncertów o nazwie "Kolabonight" z okazji okrągłych rocznic istnienia zespołu …. Obecnie zespół obchodzi 30-lecie swojej aktywności co podkreślić ma kolejne wielkie spotkanie z fanami w ramach "Kolabonight 2016".
Specjalnym gościem koncertu będzie Lech Janerka. Kolaboranci zaprosili także do udziału w jubileuszowym koncercie pilski zespół Qulturka.

15 października 2016 w szczecińskim DK "Słowianin" wystąpią:

LECH JANERKA
KOLABORANCI
QULTURKA
Początek koncertu godz: 19.00
Wejście od godz: 18.30
Bilety w przedsprzedaży: 49,- zł
Bilety w dniu koncertu: 59,- zł

Podczas koncertu będzie miała miejsce premiera nowego albumu KOLABORANTÓW zatytułowanego "Wirus międzynarodowy". Mecenasem koncertu jest Miasto Szczecin, a organizatorami Jimmy Jazz Records i D.K. Słowianin.

Przedsprzedaż biletów:
Bilety.fm: http://bilety.fm/pl/  
DK "Słowianin" – www.slowianin.org (pon-pt. 10.00-18.00, tel: 914345655)
Jimmy Jazz Records – www.jimmyjazz.pl (pon-pt. 11.00-16.00, tel: 914338082)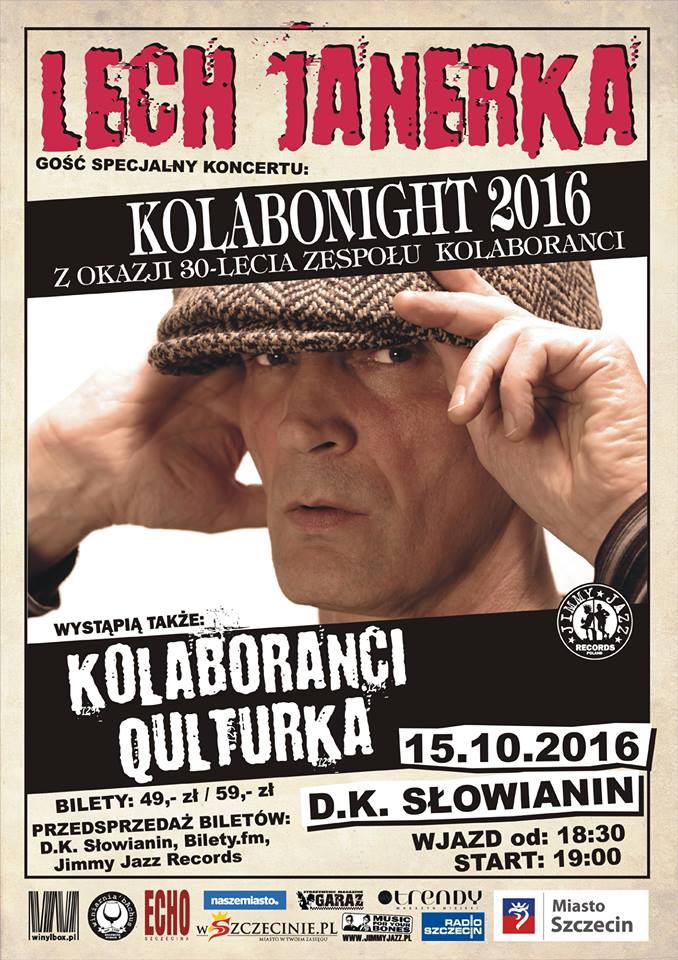 Jeden z najbardziej cenionych i najbardziej intrygujących artystów polskich: basista, kompozytor, autor tekstów, który swoją artystyczną drogę rozpoczął w końcu lat 70. ub. stulecia. W 1979 roku założył zespół KLAUS MITFFOCH wydając z nim jeden album o tytule "Klaus Mitffoch". Płyta ukazała się w 1985 roku i do dziś uważana jest za jeden z najważniejszych polskich albumów końca XX wieku. W ankiecie dziennikarzy Magazynu Muzycznego "Klaus Mitffoch" uznany został płytą trzydziestolecia, a czytelnicy magazynu "Tylko Rock" uznali go za najlepszy album lat 80.
Pochodzące z tego okresu utwory "Jezu jak się cieszę", "Strzeż się tych miejsc", "Ogniowe strzelby", "Wiązanka pieśni bojowych" i wiele innych były wówczas i są do dzisiaj znanymi przebojami.

Po opuszczeniu Klausa Mitffocha w 1984 roku Lech Janerka poświęcił się karierze solowej wydając dwa lata później pierwszy album pod tytułem "Historia podwodna". Płyta przynosząc pewne zmiany stylistyczne, wprowadzając do instrumentarium przetwarzaną elektrycznie wiolonczelę, spotkała się z doskonałym przyjęciem stając się także kopalnią przebojów, pośród których utwory takie jak "Niewole", "Konstytucje", "Jest jak w niebie" czy "Ta zabawa nie jest dla dziewczynek" do dziś elektryzują fanów rocka w Polsce.

Kolejne lata to kolejne etapy rozwoju artystycznego Lecha Janerki. Siedem albumów solowych wydanych do dzisiaj systematycznie umacniało pozycję artysty prezentując często nieco odmienne oblicza stylistyczne ale w żaden sposób nie wpływając na jego uznanie którym cieszy się nieprzerwanie od początku kariery.

Wydany w 2002 roku album "Fiu fiu" zdobył statuetkę Fryderyka w kategorii Album Roku – Muzyka Alternatywna, a Lech Janerka został laureatem Fryderyka w kategorii Autor Roku.
Trzy lata później za album "Plagiaty" Lech Janerka otrzymał nagrodę Superjedynek w kategorii Płyta Alternatywna, teledysk do pochodzącego z płyty utworu "Rower" uhonorowany został Grand Prix festiwalu polskich teledysków Yah Film, a sam utwór przyniósł Janerce kolejnego Fryderyka za Piosenkę Roku, do którego dołączyły kolejne dwie statuetki za Płytę Alternatywną i Kompozytora Roku.  

Poza twórczością znaną fanom z płyt i koncertów Lech Janerka ma na swoim koncie także muzykę filmową. Jest autorem i wykonawca muzyki do filmów "Chce mi się wyć" (1990), "Obcy musi fruwać" (1993) i "Czyż nie dobija się konia?" (2000).

W roku 2015 Lech Janerka został nagrodzony za całokształt twórczości Złotym Fryderykiem w kategorii muzyka rozrywkowa.

Swoją konsekwencją, niezależnością i umiejętnością intrygowania słuchaczy mimo upływającego czasu i zmieniających się trendów Lech Janerka jest niezmiennie jednym z najlepszych i najciekawszych artystów polskiej sceny rockowej.

https://www.facebook.com/Lech-Janerka-49459108269/likes








KOLABORANCI
Szczecińscy Kolaboranci powstali w 1986 roku i przez niemal dekadę byli jednym z tych zespołów, które kształtowały wizerunek polskiej sceny niezależnej. Pierwotnie zainspirowani dokonaniami Dezertera nie byli jedynie naśladowcami szybko wypracowując własny, niepodrabialny styl, zręcznie poruszając się między punk rockiem i hardcore, zdobywając sobie uznanie publiczności, której nie wystarczają proste i łatwe piosenki.

Po okresie samodzielnego publikowania własnych nagrań, w okresie 1990-1995 grupa szybko dorobiła się czterech cenionych do dziś albumów wydanych przez firmy Arston, Universal i MTJ, pojawiła się na kilku składankach oraz licznych koncertach w całym kraju, m.in. kilkakrotnie występując na festiwalu w Jarocinie, zagrała także na warszawskim "Róbrege" i studenckiej "Famie". Zespół dorobił się wielu hitów takich jak "Pociąg do Hollywood", "Transparenty", "Miłość", "My urodzeni w latach 60-tych", "Strażnicy moralności" czy "Powiedz coś", który trafił na pierwsze miejsce listy przebojów Rozgłośni Harcerskiej.
W tym czasie Kolaboranci stali się wylęgarnia muzycznych talentów, a byli muzycy zespołu przewinęli się przez wiele istotnych projektów (Wilki, John Porter, Albert Rosenfield, Dum-Dum, Firebirds) i do dzisiaj stanowią o wizerunku krajowej sceny rockowej występując w takich formacjach jak Hey, Dezerter czy Indios Bravos. Paradoksalnie fakt ten zaważył na losach grupy, która zawiesiła działalność w 1995 roku.

Zespół wznowił aktywność w roku 2006 jednak rok później musiał jej zaprzestać ze względu na kłopoty zdrowotne Przemysława Thiele, lidera i jedynego oryginalnego członka grupy.

Kolaboranci powrócili ponownie na scenę w roku 2009 zaliczając kolejne udane koncerty i myśląc o tym, aby z jednej strony przypomnieć się swojej starej publiczności, a z drugiej sprowokować zainteresowanie młodszych słuchaczy. W takich razach najlepszym posunięciem wydaje się zawsze wydanie płyty. Decyzją muzyków był to album koncertowy zatytułowany "My Tu Stoimy", a zespół związał się na stałe ze szczecińska wytwórnią Jimmy Jazz Records, która przed laty wydała już pierwszy album zespołu "A może to ja?" w wersji kasetowej wznawiając go na CD i winylu w 2013 roku.

W roku 2012 Kolaboranci nagrali swój pierwszy od lat premierowy album o tytule "Transparenty". Potwierdzając swoje związki ze sceną niezależną i punkowe inspiracje zespół skierował się muzycznie jeszcze bardziej w stronę brzmienia post-hardcore spotykając się ze sporym zainteresowaniem fanów, grając w klubach oraz pokazując się na kilku festiwalach. Mocne brzmienie zespołu wsparte melodyjnością i energią potwierdziło, że muzycy nie zeszli z obranej przed laty drogi i znajdują się w doskonałej formie.

W roku 2014 Kolaboranci byli jedną z gwiazd koncertu z okazji otwarcia szczecińskiego Muzeum Przełomów.

W 2016 roku zespół świętuje 30-lecie istnienia przygotowując także do wydania nowy album o tytule "Wirus międzynarodowy".

www.kolaboranci.com
www.facebook.com/pages/KOLABORANCI/155697911155957
www.jimmyjazz.pl
QULTURKA
Zespół powstał w Pile w 1995 r. pod nazwą Kulturka w roku 2006 zmieniając nazwę na QULTURKA. Od początku istnienia do roku 2010 – głownie własnym sumptem – muzycy zrealizowali 4 wydawnictwa w roku 2015 wiążąc się ze szczecińską wytwórnią Jimmy Jazz Records dla której nagrali najnowszy album o tytule "EKG".

Ponad 20 letnie istnienie Qulturki to przede wszystkim doświadczenie nabyte podczas szeregu małych i dużych koncertów, obecności na festiwalach oraz dzielenia sceny m.in. z takimi wykonawcami jak U.K. Subs, Kult, Armia, Pidżama Porno, Zmaza, Zielone Żabki, Strachy na Lachy, The Vibrators, Farben Lehre, KSU, Moskwa, Habakuk, Alians… Zespoł ma na swoim koncie także występy na wielu festiwalach takich jak Przystanek Woodstock, Warhead, Muszla-Fest, Jarocin Festiwal, Polanów Zlot, Odnowa Punk Fest, Zgrzytowisko, Woświn Rock Fest, Ost-Rock Underground Fest oraz na trasie Punky Reggae Live.

Nie bez znaczenia jest także fakt, że wokalistów Qulturki usłyszeć można na płycie Strachów na Lachy, wokalistka grupy występowała m.in. z takimi zespołami jak KSU, Farben Lehre czy Ga-Ga Zielone Żabki, a w składzie zespołu odnajdujemy muzyków znanych z innej pilskiej grupy Alians.

Choć dokonania grupy są mocno zakorzenione w punk rocku to jednak zespoł pełnymi  garściami czerpie inspiracje także z pozytywnych i skocznych dźwięków ska i reggae. Qulturka z doskonałym skutkiem podąża droga muzycznych dokonań najlepszych przedstawicieli polskiej sceny punk lat 80 i 90 ub. wieku, podkreślając na co dzień i w tekstach swoje zaangażowanie i wsparcie dla działań antyrasistowskich i ekologicznych.
Obecność doskonale uzupełniających się wokali damskiego i męskiego stanowi specyficzną i rozpoznawalną wizytówkę zespołu, a soczyste gitary, bas oraz akordeon i perkusja budują charakterystyczny styl tworząc mocny ale przyjemny w odbiorze klimat podróży po obszarach, na których dominuje punk oraz jamajska pulsacja.

Qulturka już dawno dołączyła do grona wykonawców, którzy przez lata budowali doskonała opinię o niezależnym, muzycznym środowisku swojego miasta kojarzonym dotychczas z takimi wykonawcami jak Pidżama Porno, Świat Czarownic, INRI czy Alians.

https://www.facebook.com/qulturka.band/
http://www.qulturka.band.pl/