Krzysztof Grabowski - "DEZERTER. Poroniona generacja?"
2010-11-25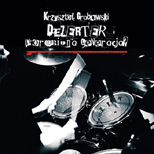 Grupy DEZERTER nikomu przedstawiać nie trzeba... Zespół jest jedną z ikon polskiego punk rocka i tylko kwestią czasu było pojawienie się wydawnictwa, które potraktuje przekrojowo dokonania zespołu od piewszych chwil jego istnienia do chwili obecnej. Zadania takiego podjął się, autor tekstów i perkusista zespołu Krzysztof Grabowski. Jego książka "Dezerter. Poroniona generacja" wydana w wyniku wspołpracy firm Kayax i Agora to doskonała lekcja historii dla tych, którzy początków grupy nie znają i powrót do przeszłości dla tych, którzy dokonania zespołu śledzą na bieżąco.
Niezliczona ilość archiwalnych materiałów poczynając od fotografii poprzez wycinki prasowe, plakaty, okładki wydawnictw, a kończąc na reprodukcjach zina "Azotox" wydawanego przez zespół uzupełniają doskonale wspomnienia autora i teksty Dezertera... Opowieść o jednym z najważniejszych zespołów polskiej sceny punk jest długa i intrygująca, doskonale wydana i opracowana graficznie i trudno wyobrazić sobie aby ktoś zainteresowany historia krajowego punk rocka nie chciał sięgnąć po to wydawnictwo.

Książka jest juz dostepna w naszym sklepie.
Zamów ---> "DEZERTER. Poroniona generacja?"

Format książki: 215 x 215 mm
Objętość: 336 stron
Twarda oprawa.