Konrad Pawicki & Band. Premiera albumu "Zły 2 czyli noc w muzeum"...
2016-04-17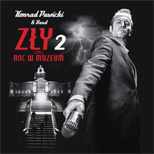 16 kwietnia 2016 roku podczas szczecińskiej imprezy z okazji Record Store Day miała miejsce premiera albumu pt."Zły 2 czyli Noc w Muzeum". To druga płyta szczecińskiego artysty Konrada Pawickiego zawierająca materiał zarejestrowany podczas koncertu w Teatrze Współczesnym w Szczecinie 23 maja 2015 roku.
Repertuar albumu to autorskie teksty aktora, poety i prezentera radiowego Konrada Pawickiego. Za muzykę odpowiedzialni są współpracujący z nim szczecińscy muzycy Jacek Wierzchowski, Piotr Klimek oraz Wiktor Szostak.

Muzycznie zawartość płyty oscyluje pomiędzy klasycznym jazzem, swingiem a piosenka literacką. Artysta starał się oddać atmosferę koncertu a więc mamy brawa i dialogi z widownią oraz osobiste komentarze do piosenek.
- Ktoś, kto sięgnie po tę płytę, będzie miał do czynienia z czymś wyjątkowym - zapewnia Pawicki - Zarejestrowany na niej koncert zagraliśmy w ramach obchodów 250-lecia teatru publicznego w Polsce. A coś takiego zdarza się raz na 250 lat. Poza tym należy wziąć pod uwagę jak często i w jakich miejscach koncertujemy. Zdarza się to mniej więcej raz na dwa lata, w dodatku na renomowanych scenach Berlina i Szczecina. Można zatem śmiało powiedzieć, że jesteśmy zespołem ekskluzywnym.

Konradowi Pawickiemu na płycie towarzyszy zespół w składzie: Wiktor Szostak (instr.klawiszowe), Paweł Rozmarynowski (kontrabas, bass) i Krzysztof Kowalczyk (saksofony, klarnet)
Do jedynego studyjnego utworu zmieszczonego na płycie "Zły 2 czyli noc w Muzeum" - której mecenasem jest 
Muzeum Narodowe w Szczecinie
- powstał teledysk zrealizowany przez Studio Filmowe Film Kong przy wsparciu Zachodniopomorskiego Funduszu Filmowego Pomerania Film. Teledysk do "Złego" utrzymany jest w klimacie filmów Noir i doskonale wpisuje się zarówno w filmowe pasje Pawickiego jak i klimat muzyki jaką odnajdujemy na jego najnowszym albumie.
Teledysk dostępny już jest na naszym kanale Jimmy Jazz Tv na YouTube... a po płyte zapraszamy do naszego sklepu.