Kolejne "japońskie" wydawnictwo Liberation Records na winylu...
2012-04-13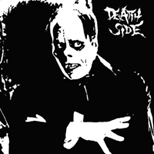 W swoich planach wydawniczych oficyna Liberation Records, wydająca kapele z szeroko pojętego kręgu hardcore/punk, sięgnęła po raz kolejny po wykonawcę z Japonii.
Przypomnijmy, że wcześniej pojawiły się za sprawą wspomnianej wytwórni winylowe krążki z nagraniami DISCLOSE oraz split LP DEATH SIDE z klasykami z CHAOS UK.

Obecnie fani ostrego hardcore/punka dostają do ręki kolejny album działającej w Japonii w latach 1987-1994 grupy DEATH SIDE, zatytułowany "The Will Never Die". Tytuł płyty zaczerpnięty został od tytułu jednej z EP-ek DEATH SIDE wydanej w 1994 roku, nawiązuje też do niej okładka LP. Wydawnictwo to nie znalazło się jednak na wydanym właśnie albumie choć wypełniają go nagrania wydane niegdyś na małych krążkach oraz składankach, których dziesiątki zawierały dokonania Japończyków w okresie aktywności grupy i po rozpadzie.

Wydany właśnie album "The Will Never Die" wypełniają nagrania z:

- EP "Satisfy The Instinct"

- składankowego LP "Eye Of The Thrash Guerrilla"

- kompilacyjnej EP-ki "Smashing Odds Ness"

- składankowego LP "Hang The Sucker Vol. II"

- składankowego LP "Game Of Death"

Łącznie do rąk fanów grupy trafia za sprawą nowego wydawnictwa 20 nagrań, które powinny bez problemu zadowolić zwolenników ostrego hardcore/punka podlanego metalowymi wpływami.

Płyta wydana została na czarnym winylu w nakładzie 300 kopii i jest już dostępna w naszym sklepie.
Zainteresowanych zapraszamy do składania zamówień.

Zamów ----> LP DEATH SIDE - "The Will Never Die"