Knock Out Records...
2005-10-16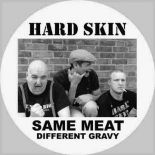 Niemiecka firma Knock Out Records uznawana za jedną z najprężniejszych wytwórni punkowych u naszych zachodnich sąsiadów znana jest nie tylko z wydawania własnych tytułów ale także winylowych reedycji albumów zrealizowanych przez inne niezalezne agendy.
W tym roku staraniem Knock Out pojawiły się już m.in: winylowa wersja albumu HARD SKIN "Same Meat, Different Gravy", LP i CD psychobillowej formacji UP TO VEGAS "Punkstyle Rock'n'roll" i podwójny box DVD grupy SONDASCHULE o tytule "Dephaudeh".
Kolejnym DVD w katalogu firmy będzie "10 Years Power From The Eastside" wschodnioniemieckiej grupy LOIKAEMIE świętującej swoje 10-lecie. Z tej okazji, 12 marca 2005 w Plauen ("Kaffeerösterei") zespół zarejestrował z udziałem 6 kamer swój występ, z którego po obróbce w studiu filmowym wyselekcjonowano 23 utwóry stanowiące część wizualną debiutanckiego DVD grupy. Część audio stanowić będzie bonus CD z wszystkimi utworami z części video (25 utworów) plus 16-stronicowa książeczka.
Dal fanów czarnego winylu zespół i wydawca przygotowali limitowany (1000 ręcznie numerowanych kopii) album z 25 utworami grupy.
Więcej ---> KNOCK OUT RECORDS