Karty podarunkowe - Nowa możliwość zakupów w naszym sklepie...
2017-01-10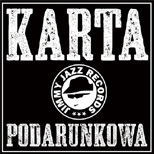 Koniec rozpusty! Koniec promocji... Wracamy do stanu cenowej normalności choć z pewnością o was nie zapomnimy i od czasu do czasu będziemy się starać rozpieszczać was mniej lub bardziej atrakcyjnymi rabatami. Szykujemy też kilka promocji dotyczących wybranych grup produktów. Aby z nich skorzystać sugerujemy regularne odwiedzanie naszego sklepu lub naszego profilu na Facebooku gdzie także staramy się prezentować najbardziej aktualne wydarzenia i najnowszą ofertę Jimmy Jazz Records. Nie zapominajcie też o naszym kanale na Youtube gdzie sporo muzyki do słuchania online i wszystkie najnowsze teledyski czekają na waszą wizytę.
Już teraz zachęcamy was do zachowania w pamięci informacji o KARTACH PODARUNKOWYCH, które właśnie uruchomiliśmy w naszym sklepie. Karty podarunkowe to doskonały sposób na sprawienie komuś prezentu bez ryzyka pomyłki przy zakupie (- Ma czy nie ma? Lubi czy nie lubi? Oto jest pytanie.) a także możliwość dysponowania kartą w okresie 6 MIESIĘCY (!!!) od zakupu karty. Krótko mówiąc pełny komfort... Osoba obdarowana kartą robi zakupy kiedy chce, wybiera to co jest w sklepie aktualnie dostępne lub czeka na to co będzie... Zero spinki, zero pośpiechu, pełny luz i pełna wygoda.

Karty podarunkowe dostępne są w 7 nominałach: 50, 100, 150, 200, 250, 300, 400 i 500 złotych.
Szczegółowe zasady dysponowania kartą podarunkową znajdziecie na kartach produktu.