KONCERT EMERALD W POLSKIM RADIU SZCZECIN 26.04
2010-04-20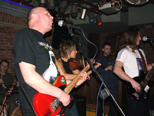 Koncert odbędzie się w poniedziałek 26 kwietnia o godz. 19:00 w studiu im. Jana Szyrockiego w Radiu Szczecin. Bilety w cenie 10 zł można nabyć od poniedziałku do piątku w godz. 10:00-18:00 w recepcji Radia Szczecin przy al. Wojska Polskiego 73 oraz tuż przed koncertem w studiu im. Jana Szyrockiego. Z racji na limitowaną ilość miejsc zachęcamy do wcześniejszego zakupu biletów, co gwarantuje udział w koncercie. Słuchacze spoza Szczecina mogą nabyć bilety dokonując wpłaty na konto bankowe radia - prosimy o kontakt pod adresem studio@radio.szczecin.pl.
Duża dawka rocka, autorskie polskie teksty oraz żarte partie akordeonu i skrzypiec to znak rozpoznawczy zespołu. 26 kwietnia Emerald zaprezentuje w radiu nową płytę - "Fiński nóż". Bilety już w sprzedaży!
"Fiński nóż" to już czwarta płyta szczecińskiej formacji folk rockowej powstałej w 1991 roku. Emerald w tym roku obchodzi swoje 19-ste urodziny, które uświetnia doskonałym albumem będącym kontynuacją dotychczasowych osiągnięć. Na dokonania grupy spory wpływ wywiera inspiracja twórczością takich wykonawców jak The Pogues, Flogging Molly, The Dubliners, The Waterboys, Dropkick Murphys czy Johnny Cash. Obecnie, na krajowym rynku Emerald nie ma sobie równych wśród tego typu koncertowych grup.

Na krążku "Fiński nóż" znajdujemy materiał, który w większości wyszedł spod ręki lidera kapeli Leszka Czarneckiego i śmiało można stwierdzić, że jest to jego płyta autorska. Najważniejszym znakiem odróżniającym ja od innych tego typu produkcji jest bardzo zróżnicowany materiał. Lecho umieścił na niej utwory skomponowane na różnych etapach swego artystycznego żywota, przy czym najstarszy utwór ma 25 lat, a najmłodszy kilka miesięcy, przez co płyta nie jest ani monotonna ani przewidywalna.

Teksty opisują prawdziwych ludzi, z krwi i kości, w większości dobrych znajomych autora, borykających się z życiem każdy na swój dziwny sposób. Tytuł zaczerpnięty z wiersza Andrzeja Bursy wskazuje ducha tej płyty, wyrastającego z tego wszystkiego, co kojarzyć się może ze słowem "facet". Znajdziemy więc na krążku i rasowe punk-folkowe killery w stylu The Pogues, jak i klasycznego bluesa brzmiącego niczym stary Fleetwood Mac czy też szantową balladę z niesamowitym, instrumentalnym finałem.

Sami twórcy mówią o nowej płycie, że "Fiński nóż" z założenia miał być płytą szybką i zwartą, nie rozciągaliśmy więc kompozycji w nieskończoność lecz założyliśmy, że dzięki temu nie uwolnicie się od niej zbyt szybko". "Fiński nóż" to dowód na to, że Emerald zna patent na to jak zmusić do tańca nawet głuchych i tych bez poczucia rytmu.