KOMETY na Liście Przebojów Trójki.
2005-12-01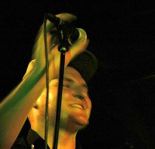 Utwór "Bezsenne noce" z najnowszego albumu KOMET pt. "Via Ardiente" od pewnego czasu znajduje się na Liście Przebojów radiowej Trójki. W ubiegłym tygodniu piosenka gościła na 27 miejscu i była to pozycja wyższa niż ta sprzed tygodnia kiedy to Komety znalazły się na pozycji 31, a wcześniej 37.
To pierwszy przypadek w historii wytwórni Jimmy Jazz kiedy utwór z naszego katalogu plasuje sie na tej (bodaj najstarszej i najbardziej popularnej) radiowej lisćie przebojów.
Wszytskiech fanów grupy zainteresowanych wsparciem zespołu zachecamy do głosowania na utwór Komet za pośrednictwem strony Programu 3 Polskiego Radia.