KOLABORANCI - "Transparenty.". Zamów nowy album szczecińskich weteranów!!!
2012-09-07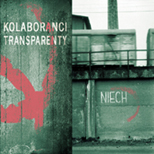 W 2011 Kolaboranci obchodzili 25 lat swojej działalności scenicznej. Z tej okazji wytwórnia Jimmy Jazz Records wydała koncertowy album "My tu stoimy", a zespół wystąpił na jubileuszowym koncercie pn. "Kolabonight". Oba wydarzenia okazały się sukcesem na tyle istotnym, że historia musi mieć ciąg dalszy. Muzycy weszli do studia, gdzie powstał nowy materiał. Premiera albumu zatytułowanego "Transparenty" odbyła się 15 września 2012 roku..

"Transparenty" to intrygująca dawka charakterystycznych tekstów Przemysława Thiele, gdzie obserwacja łączy się z ironią, a refleksja z szyderstwem, połączonych z nowoczesnym gitarowym graniem. Bez problemu zatem odnajdujemy na nowym albumie ducha "starych" Kolaborantów znanych z zabawy słowem i dźwiękami. Ich muzyki nie daje się łatwo zaszufladkować? Taka też jest nowa płyta i nie ma najmniejszych wątpliwości, że bez trudu dorównuje najlepszym osiągnięciom zespołu.

"Transparenty" to przede wszystkim nowa płyta nagrana z nowymi muzykami i w całkiem innych realiach niż piosenki, z którymi Kolaboranci odnosili największe sukcesy. Ale właśnie to zdaje się być największą siłą nowej płyty czego dowodzi kilka ewidentnych hitów zawartych na krążku.
Sam Thiele mówi: - Nowe utwory powstawały dość szybko, pracowało się dobrze bo to dobry skład, a i ja sam sypnąłem w końcu tekstami. Pogrzebałem też w archiwach i wydłubałem kilka pomysłów niepublikowanych sprzed lat, które uznałem za godne uwagi. Zaaranżowaliśmy te numery na nowo i tak narodziły się: "Sen o Sz.", "Nie mów mi, że będzie inaczej", "Kukieł" i "My nie będziemy świecić oczami przed Mietkiem za bandę idiotów". Odnalazłem też dwa pomysły Jacka Chrzanowskiego sprzed prawie 20 lat, z którymi nigdy nic nie zrobiliśmy. Ponieważ powstały gdzieś w okolicach płyty "Ciało i drewno" błyskotliwie nawiązywały do dobrego czasu w historii zespołu. Z nich wyłoniły się ostatecznie: "Zabraniam" i "Dajcie mi wasze głosy.

Do nowej płyty Kolaborantów powstały dwa teledyski. "Jedni i drudzy (ja się chce obudzić)" nakręcony do pierwszego singla jest już dostępny w sieci. Kolejnym będzie "Końców świata już kilka było", a jego premiera odbędzie się już po premierze płytowej.



Premiera płyty 15 września 2012, ale juz teraz mozna zamawiac krążek. Na karcie produktu do przesłuchania PROMO MIX nowej płyty, dostepny tez na kanale JimmyJazzTV na You Tube.

Zamów ---> CD KOLABORANCI - Transparenty





O ZESPOLE:
Szczecińscy Kolaboranci powstali w 1986 roku i przez niemal dekadę byli jednym z tych zespołów, które kształtowały wizerunek polskiej sceny niezależnej. Pierwotnie zainspirowani dokonaniami Dezertera nie byli jedynie naśladowcami szybko wypracowując własny, niepodrabialny styl, zręcznie poruszając się między punk rockiem i hardcore-punkiem, zdobywając sobie uznanie publiczności, której nie wystarczają proste i łatwe piosenki.
Po okresie samodzielnego publikowania własnych nagrań, w okresie 1990-1995 grupa szybko dorobiła się czterech cenionych do dziś albumów wydanych przez firmy Arston, Universal i MTJ. W tym czasie Kolaboranci stali się wylęgarnia muzycznych talentów, a byli muzycy zespołu przewinęli się przez wiele istotnych projektów (Wilki, Albert Rosenfield, Dum-Dum) i do dzisiaj stanowią o wizerunku krajowej sceny rockowej występując w takich formacjach jak Hey, Dezerter czy Indios Bravos. Paradoksalnie fakt ten zaważył na losach grupy, która zawiesiła działalność w 1995 roku.
Zespół wznowił ją w roku 2006 jednak rok później musiał zaprzestać aktywności ze względu na kłopoty zdrowotne Przemysława Thiele, lidera i jedynego oryginalnego członka grupy.
Kolaboranci powrócili ponownie na scenę w roku 2009 zaliczając kolejne udane koncerty i myśląc o tym, aby z jednej strony przypomnieć się swojej starej publiczności, a z drugiej sprowokować zainteresowanie młodszych słuchaczy.