KOLABORANCI - A może to ja? Reedycja debiutanckiej płyty po ponad 20 latach. Walka o numery winyli w nocy z piątku na sobotę!!!
2013-11-07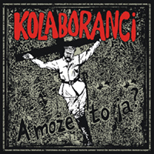 Premiera reedycji debiutu Kolaborantów na CD i LP już w nocy z piątku na sobotę 9 listopada 2013. Winylowych maniaków czeka też walka o numery płyt, edycji zielonej i czarnej. Uwaga! Lekko zmieniamy zasady zdobywania LP z konkretnymi numerami i czas ich wystawienia na jimmyjazz.pl

Debiutancki album Kolaborantów "A może to ja" z 1990 to znaczący moment w historii polskiej muzyki alternatywnej. Dzięki tej płycie szczecińska kapela na dobre zaistniała w świadomości szerszego grona odbiorców. Zespół był już wtedy doskonale znany wśród bywalców koncertów w rodzinnym Szczecinie, czy przyjeżdżających do Jarocina na kolejne edycje Festiwalu Muzyków Rockowych, w końcu lat 80-tych, bądź też uczestników imprezy Jurka Owsiaka, Letnia Zadyma W Środku Zimy ze stycznia 1989.
"A może to ja" to płyta, która z jednej strony pokazuje olbrzymi potencjał drzemiący wówczas w muzykach zespołu, a z drugiej to jeden z najbardziej przebojowych krążków w dyskografii grupy. "Transparenty", "Pociąg do H.", "Strażnicy moralności", "Miłość", "Powiedz coś", czy "A może to ja?" nie raz gościły na radiowych listach przebojów i do dziś są najbardziej rozpoznawalnymi i oczekiwanymi fragmentami koncertów zespołu.

Jimmy Jazz Records wznawia krążek "A może to ja" po 23 latach od premiery. Podobnie jak wtedy, tak i teraz, na rynku pojawiają się obie wersje - CD i LP. W obu przypadkach okładka została nieznacznie zmieniona i dodatkowo uzupełniona o bogato ilustrowaną wkładkę (nie było jej w wydaniu pierwszym z lat 90-tych). Ponadto na płycie CD zamieszczone zostały dwa dodatkowe nagrania, niedostępne wcześniej na CD, a wkładka wersji winylowej rozbudowana jest o zdjęcia i opisy dotyczące czasów powstania albumu.
Wersja winylowa jest dostępna w dwóch kolorach, czarnym i zielonym. Łączny nakład to 373 sztuki, z tego 216 płyt czarnych i 157 kolorowych.

Oto szczegóły numeracji winylowej edycji "A może to ja" Kolaborantów:

001 - 005  zielony winyl (do dyspozycji JJR, nie trafiają do sprzedaży)
006 - 010  czarny winyl  (do dyspozycji JJR, nie trafiają do sprzedaży)

011 - 100 zielony winyl
101 - 200 czarny winyl

201 - 262 zielony winyl
263 - 373 czarny winyl 

TS – 001 – 010 – test pressing (z tego 8 egz. do sprzedaży)

Do sprzedaży w noc premiery trafią płyty od 11 do 200. Na krążki w obu kolorach z pożądanymi numerami będzie można znaleźć na jimmyjazz.pl, chwilę po północy 9.11.2013 (noc z piątku na sobotę) i będzie można je kupować tylko przez 4 dni, czyli do 12.11.2013 wlącznie!!! Po tym czasie wszystkie płyty będą sprzedawane losowo.
W dniu premiery płyty oznaczone numerami od 201 w górę będą widoczne na stronie sklepu w dwóch oddzielnych pozycjach (jedna winyle czarne, druga zielone), a numer z tego zakresu będzie można zamówić, wpisując go w okienku korespondencyjnym na formularzu zamówienia.  Jeśli numer będzie dostępny to zostanie wysłany, jeśli nie, zostanie spakowany inny numer.

Zapraszamy po winyle od północy z piątku (08-11-2013) na sobotę (09-11-2013)..... a juz teraz można zamawiać wersję CD płyty "A Może to ja?"....

Zamów ---> CD KOLABORANCI - A może to ja?