KOBRANOCKA - Sztuka jest skarpetką kulawego.... na winylu.
2016-07-27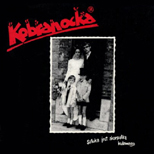 "Sztuka jest skarpetką kulawego" to pierwszy album Kobranocki, na którym zespół brzmi jeszcze tak jak brzmiał w pierwszym okresie swojego istnienia, kiedy to kojarzony był głównie ze sceną punkową. Nie przeszkadzało to w tym aby zawarte na nim przeboje takie jak "Ela czemu się nie wcielasz?", "List z pola boju", "Biedna pani", "Trzymaj ręce przy Irence", i inne stały się radiowymi przebojami znanymi w całej Polsce. Album zawiera także m.in. utwór "Kombinat" z repertuaru Republiki a sporym hitem stał się wówczas także utwór "I nikomu nie wolno się z tego śmiać" z polskim tekstem i muzyką Die Toten Hosen.

Płytowy debiut Kobranocki wydany w roku 1987 na kasecie a następnie na winylu przez Klub Płytowy Razem - specyficzne wydawnictwo płytowe powiązane z ukazującą się wówczas gazetą o nazwie "Razem", działające w latach 80 ub. wieku, posiadające zarejestrowanych członków, dla których wydawano albumy winylowe w limitowanych nakładach. Klub Płytowy Razem działał do 1988 roku ale po latach - w 2012 roku - wznowił działalność jako wydawnictwo płytowe.

"Sztuka jest skarpetką kulawego" to bezsprzeczny klasyk. Każdy kto nie miał możliwości zdobycia go w wersji winylowej ma obecnie okazję aby to zmienić. Płyta wydana przez Klub Płytowy Razem dostępna jest w naszym sklepie.