KARCER + WERSJA DE LUX + FURIA
2007-02-24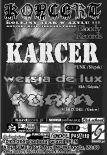 KOLEJNY ATAK W AZYLU!!!
10.03.(sobota) w Pubie Azyl w Nowem k. Świecia zagrają KARCER, WERSJA DE LUX, FURIA - Wjazd 9 PLN - Zapraszamy!!!
Macie czego chcieliście! Kolejny koncert w Pabie Azyl zadowoli fanów ciężkiego harcore-metal-corowego grania, zapewni im to zespół FURIA z Gniewa. Fani muzyki ska i reggae w końcu też będą mieli coś dla siebie albowiem zagra dla nich zespół WERSJA DE LUX z Gdynii. Muzyka, którą obecnie serwuje zespół to dynamiczne ska, przyprawione niekiedy soczystą dawką rock'n'rolla. Można dosłuchać się w niej inspiracji zarówno klasyką jamajskich rytmów, jak i nieco "chłodniejszym" brzmieniem, w postaci np. Ramones. No i gwiazda wieczoru zespół KARCER ze Słupska -legenda Punka lat osiemdziesiątych.
Zespół powstał jesienią 1982 i od dwudziestu pięciu lat niezmiennie mantruje punk rocka. Jest legendą tego gatunku w Polsce i nie tylko. Dwukrotnie zdobywał laury w Jarocinie w 1985r. (mała scena, a potem koncert w gronie finalistów na dużej scenie) i 1986r. Występował też na RÓBREGE i innych większych imprezach lat 80-tych w Polsce. Stał się znany z "energetycznych" koncertów trakcie których nie mogło obejść się bez pogo w amoku, w trakcie którego puszczają nie tylko zwieracze ale i emocje. Piosenki takie jak "Młodość Walcząca", "Życie za Hym", "Mitomania", "Gest idoli" czy Wschód jest pełen słońca" to elementarz polskiego Punk Rocka. Koncertował z takim zespołami jak U.K. SUBS, GBH, Oi Poloi, Dezerter, Armia, Analogs, KSU…. i wiele innych, których nazw nie sposób spamiętać. Wydali trzy oficjalne płyty, kilka demówek i nieskończona liczbę składanek. Muzyka zespołu to melodyjny Punk nie bez wpływów hard core i metalu, z dobrymi tekstami o różnej tematyce od polityki, ekologii, po osobiste przeżycia. W dużej mierze na sukces zespołu złożyły się właśnie teksty często cytowane na forach internetowych. W chwili obecnej zespół tworzą trzy osoby. Krzysztof Żeromski git. voc., (w Karcerze od zawsze), Adam Lao bas, voc. (w Karcerze od 1983r z przerwą na 1985-88r), Daniel Łukasik dr. (w Karcerze od 2000r.).
Pomimo faktu, że chłopaki "uciekli z domu spokojnej starości", na koncertach dają z siebie wszystko i ze sceny płynie czysta energia, która zamienia się w niekończące pogo przy wtórze chóralnych śpiewów. ZAPRASZAMY!!!