KARCER + REJESTRACJA + WC
2011-05-15
Nieczęsto zdarza się, by na jednym koncercie spotkały się trzy punkowe ikony. Karcer, Rejestracja i WC to kawałek historii polskiego punk rocka. Zaczynali w różnych okresach lat osiemdziesiątych, spotykali się na przeróżnych festiwalach, koncertach, współtworzyli wiele ważnych, punkowych wydarzeń. W swoich blisko, czy ponad, trzydziestoletnich historiach przeżywali okresy wzlotów, upadków, rozstań, powrotów. Teraz postanowili jeszcze raz udowodnić, iż mimo upływających lat Old Punks mają się dobrze, co więcej, energii im nie ubywa. I chociaż dorobili się statusu starszyzny plemiennej, warto wypastować Martensy, by zobaczyć ich ponownie w akcji. Dwa ciosy - dwa koncerty: KARCER, REJESTRACJA, WC - 03 czerwca w słupskim Motor Pubie, gdzie dołączy lokalne Zero i dzień później,  04 czerwca w gdyńskim Uchu razem z Raus! Of My Eyes.
Zapraszamy !!!

- WC
www.myspace.com/wyidealizowanaciemnosc

- Karcer
www.myspace.com/karcerband

- Rejestracja
www.myspace.com/rejestracja

- Raus Of My Eyes
www.myspace.com/rausofmyeyes

- Zero                                                                                                               www.myspace.comwww.myspace.com/zero.pl

KARCER: Grający od 1982 roku, po koncertach w Jarocinie w 1985 i 1986 na stałe wpisał się w surowe karty polskiego punk rocka. Historia zespołu to krzywa prl kryzysowej epopei i dojrzewania w polityczno-muzycznej paranoi Polski. Wszystko echem odbija się w tekstach i muzyce zespołu. Oficjalne wydanictwa to albumy wydawane na przestrzeni 1992-2010.  Ostatnimi są: "Anarchiwa" wydana z okazji 25-lecia zespołu oraz wydany w marcu 2011 piąty album grupy "Wariaci i Geniusze" (Jimmy Jazz Records) .
KARCER to: Krzysztof Żeromski, Adam Lao, Daniel Łukasik, Robert Kowalczyk.




WC: Grupa powstała w połowie 1981 roku w Miastku, założona przez przyjaciół zafascynowanych muzyką punk rockową. Jej  prostota muzyczna i szczerość przekazu od początku stały się wyznacznikami stylu zespołu, którego dopełnieniem były inteligentne teksty piosenek osadzone w realiach tamtych czasów czyli głębokiej komuny. W pierwszym okresie działalności podstawę WC tworzyli: Jaromir 'Młody' (śpiew), Leszek (gitara), Wiesław (bas) i Jan T.G (perkusja, saksofon). W różnych etapach działalności zespołu muzyka ewoluowała nieco, ale zawsze utrzymana była w punk rockowej konwencji. W latach 80-tych WC stało się swoistym symbolem zespołów podziemnego obiegu, zespół sporo koncertował po Polsce, a z rąk do rąk przechodziły nagrania z prób i koncertów powielane nieskończoną ilość razy. Najbardziej popularnym zbiorem nagrań WC w tamtym czasie był koncert z krakowskiej Rotundy "Open Rock 1982" a potem zapis próby zespołu z 1984. Po latach nagrania z 1984 ukazały się na kasecie "Archiwum", a w 2005 Jimmy Jazz Records wydała CD "Archiwum" wzbogacony o bonusy koncertowe. W 1994 r. ukazał się pierwszy studyjny materiał WC "Wyciagajac rękę po..." wydany przez Silverton będący próba poszerzenia brzmienia. Po latach przerwy, w 2005 roku już w Szczecinie zespół reaktywował się w nowym składzie i przypomniał o sobie wspomnianym CD "Archiwum". W roku 2008 "Archiwum" ukazało się też w formie winylowej, co było niejako spełnieniem marzeń kapeli i znakiem "sprawiedliwości dziejowej", bowiem płyta należała się WC już 25 lat temu... Zespół nagrał także nowy album "Jurassic Punk" zawierający zupełnie nowe kompozycje oraz kilka starych hitów w nowych aranżacjach jak "Regulamin", "Pozycja" czy "Nie chcę jeszcze umierać". Zespół mocno trzyma się punk rockowych korzeni a wysoki poziom muzyczny gwarantują także doświadczeni – znani z innych projektów - muzycy. Obecny skład zespołu to Jaromir (śpiew,), Skoda (gitara, także w grupie Włochaty), Jerry (bass,) i Billy (perkusja, także Włochaty).
Ostatnio o zespole WC przypomniał także Jacek Boruc w swoim najnowszym filmie "Wszystko co kocham". Opowiadając o burzliwych latach 80-tych, w historię bohatera filmu i założonego przez niego zespołu wplata trzy największe hity WC: "Nie chcę jeszcze umierać", "Łazienkę" oraz "Dobranoc dla wybranych". Efektem "mody na WC" jest także udział grupy w polskiej części trasy "30 lat Chaosu i Anarchii" ( 05./06. 2010 ), gdzie "wuceci" mieli zaszczyt suportować legendarny Exploited.
W roku 2011 zespół świętuje swoje XXX-lecie, zamierzając uczcić ten fakt kilkoma okolicznościowymi koncertami.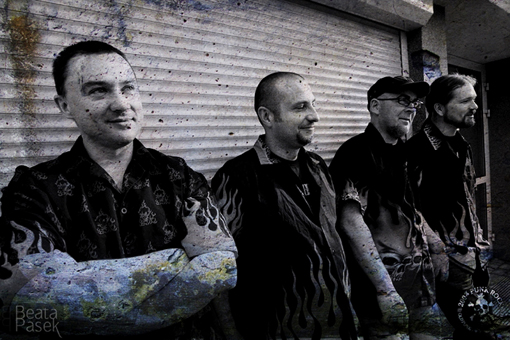 REJESTRACJA: Istnieją na scenie już 30 lat. Po wielu zmianach personalnych w zespole, perypetiach życiowych, wyjazdach za granicę, zawieszeniach działalności, postanowili, że wciąż będą grać. W 2008 roku nastąpiła owocna reaktywacja – wydali dwie płyty (jedną studyjną Uwolnij się oraz koncertową), a także singiel. Dużo koncertują. Poza tym niezmiennie mówią, co myślą, są niepokorni. Obecny skład wydaję się być zgrany i silny: wokal należy do charyzmatycznego Grzegorza Gela Sakerskiego, za perkusją od początku rządzi Tomasz Siata Siatka, na gitarze Maciej Gregas Gregorczyk, a bas to Maciek Gryszka.