KARCER - "Herezje"..... Zamów!!!
2014-09-26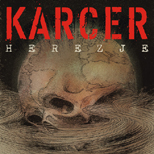 KARCER, jeden z najbardziej długowiecznych polskich zespołów punkowych kazał fanom trzy lata czekać na swój nowy album.
Krążek o tytule "Herezje" powstawał od jesieni 2013 do wakacji 2014 rejestrowany samodzielnie przez zespół w Słupskim Ośrodku Kultury, a jego zawartość stanowi 13 nowych kompozycji uzupełnionych nagraniem bonusowym.
Na nowej płycie odnajdujemy klasyczny, muzyczny tort Karcerowiczów: od zwariowanej prędkości do chwili na przystanku, która i tak nie powinna dać oczekiwanego spokoju. Wszystko oplecione w mroczne teksty, bo słońce zagląda tu może raz, i to na krótko.
"Staraliśmy się wybrać utwory, które pokażą KARCER po trzech latach
- mówi Krzysztof Żeromski -
Nie wiem, czy to długo, czy krótko między albumami, ale staraliśmy się wybrać utwory budujące pewną całość. Unikamy jednego wzoru w całym materiale, bo wreszcie ma być to album, a nie kolejna koperta z kolejnymi zdjęciami z komunii. Kilka pomysłów odpadło, inne zostały zahibernowane i czekają. Wg mnie "Herezje" to płyta bardzo optymistyczna, mam nadzieję, że to nie herezje. Do nowych utworów dołożyliśmy "13XII", żeby nie zapomnieć. Technicznie, przygotowywaliśmy materiał na płytę sami, korzystając tym razem z pomocy słupskiego SOKu, tak lokalowej, jak i sprzętowej. Z efektu jesteśmy zadowoleni. Część nowych utworów znajdzie się na naszych track listach podczas najbliższych koncertów".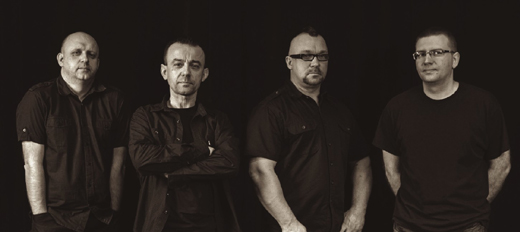 Oficjalna premiera płyty 18 października 2014, ale krążek będzie można nabyć wcześniej podczas koncertów zespołu a już od teraz także w sklepie Jimmy Jazz
Records.

Wszystkie zamówione krążki wysyłamy 3 pażdziernika 2014.
Zamów CD ---> KARCER - Herezje
Pierwszym singlem promującym "Herezje" jest utwór "Chora broń", do którego powstał także teledysk dostępny m.in. na kanale Youtube wydawcy: Jimmy Jazz Records.