KALOSZ LASZLO - Premiera płyty 28 maja 2007!
2007-05-17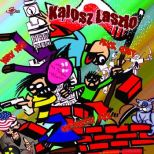 28 maja 2007 roku w katalogu Jimmy Jazz Records pojawi się debiutancki album koszalińskiej grupy zawiązanej w 2001, której muzycy mają za sobą muzyczny staż m.in. w takich formacjach jak punkowa legenda WC czy związany swego czasu z firmą Polygram zespół Gdzieci Kwiaty.
Jak sami o sobie piszą "Kalosz Laszlo to zespół hard punk shit rockowy grający muzykę raczej odległa od obowiązujących trendów" co znajduje odbicie w repertuarze grupy będącym wypadkową hard rocka, punk rocka i tradycyjnego rock'n'rolla wzbogaconego niekonwencjonalnymi tekstami. Grupa ma na swoim koncie 5 albumów wydanych własnym sumptem dystrybuowanych na koncertach, będących żywiołem w którym Kalosz czuje się najlepiej. Najnowsza płyta jest pierwszym wydawnictwem, które trafi do oficjalnej dystrybucji.
LISTA UTWORÓW:
1. J.K.
2. Istota zła
3. Kiss Me Darling
4. Dżadża
5. My Girl is McGiver
6. Edi (+2005)
7. ...To dostaniesz laczkiem w twarz
8. Mamy to w dupie
9. Kategoria A
10. Warszawka
11. Bosman Song
Pierwszym singlem promującym album będzie utwór "J.K.".
Juz od dzisiaj płyta do nabycia w specjalnej przedpemieowej cenie 20 zl. obowiązującej do daty pemiery krązka. Wkrótce na naszej stronie do ściągnięcia singiel promocyjny plus do odsłuchania sample z płyty.
Zamów ---> CD KALOSZ LASZLO