Jeszcze dostępne kolorowe winyle PARTII...
2012-11-09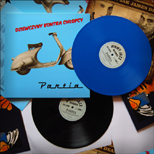 Walka o numery winyli albumu PARTII pt. "Dziewczyny kontra chłopcy" została zakończona i choć najbardziej pożądane egzemplarze trafiły do zainteresowanych to jeszcze dostepnych jest kilkanaście niebieskichn płyt (wysyłamy już wg numeracji losowej)... zatem jeśli ktoś chce zostać właścicielem płyty z limitowanej, kolorowej setki nie powinien sie zbytnio ociągac z decyzja o zakupie....
Każda płyta posiada wkładkę z tekstami, ponadto do każdego egzemplarza dodalismy bonus z ostatniej chwili - kopię oryginalnego plakatu Partii z koncertu w 1996 roku!!!!!!!
Nie ma na co czekać..... Za chwilę będzie za późno... ZAMÓW WINYL------- > PARTIA

"Dziewczyny kontra chłopcy - Ta wojna trwa już zbyt długo więc podajmy sobie ręce..." - to jeden z wielu chwytliwych wersów piosenek Partii. "Dziewczyny kontra chłopcy" to również tytuł drugiego albumu w dyskografii tego legendarnego zespołu, którego kolejny krążek pojawił się jako reedycja wznowiona przez Jimmy Jazz REcords.
Płyta trafiła do fanów w formacie CD jak i na winylu.
Obecne wydanie "Dziewczyny kontra chłopcy" w obu formatach otrzymało nową okładkę nawiązującą jednak do wersji pierwotnej, ponadto materiał poddano remasteringowi w warszawskim studio Serakos.
Pojawienie się krążka to kolejny etap wznawiania kompletnej dyskografii Partii zapoczątkowany dwa lata temu albumem "Umrzeć jak James Dean - The Best of Partia".

Album w wersji CD i LP ukazał się 10 listopada 2012 i tradycyjnie firma Jimmy Jazz Records przygotowała specjalną edycję limitowanego plastiku. Tym razem obiektem westchnień fanów są winylowe krążki w kolorze niebieskim. Całość winylowego nakładu płyty to 330 sztuk, w tym 110 sztuk winyli kolorowych.

Pierwotna premiera albumu odbyła się w 1999 roku i znalazły się na nim tak niezapomniane hity Partii jak tytułowy "Dziewczyny kontra chłopcy" czy nie mniej przebojowe i popularne do dziś "Kieszonkowiec Darek", "Chciałbym umrzeć jak James Dean" czy "Kobiety". Ponownie wydany album odświeży zapewne pamięć dawnym fanom Partii i przekona do siebie nowych słuchaczy... Jednym i drugim "Dziewczyny kontra chłopcy" muszą wystarczyć na przynajmniej rok bo dopiero za 12 miesięcy kolejna reedycja płyty z dyskografii legendarnej, warszawskiej grupy.

Płytę CD można zamówić w naszym sklepie ---> CD PARTIA - Dziewczyny kontra chłopcy




O PARTII:
Partia, działająca w latach 1993 - 2003 w chwili obecnej oceniana jest nie inaczej jak tylko w kategoriach kultowych. Fani grupy nie mają co do tego wątpliwości, a ci którzy nie mieli szczęścia i okazji zetknąć się z dokonaniami warszawiaków w okresie ich aktywności, mogą nadrobić zaległości.
Swoją pozycję w historii polskiej muzyki zespół zawdzięcza w równej mierze doskonałemu repertuarowi opartemu o nowoczesne, charakterystyczne brzmienie powstałe w oparciu o swing, rockabilly, bigbit i punk oraz polską tradycję pop-kulturową lat 50, 60 i 70-tych.
To swoiste połączenie stworzyło muzyczny wizerunek Partii, który nawet po latach wydaje się być nie do podrobienia, a jego wizualnym uzupełnieniem jest stylowy image grupy.
Charakterystyczne teksty lidera zespołu Lesława, poza dużą dawka osobistych refleksji świadomie nawiązują do miejsc, w których na równi kształtowała się muzyczna i czysto ludzka świadomość muzyków. Nie przez przypadek jeden z albumów grupy nosi tytuł "Żoliborz-Mokotów" i nie przez przypadek Partia uznawana była za zespół na wskroś warszawski, co nie przeszkadzało zaistnieć jej szerzej .
Sceniczna aktywność Partii stała się inspirującym impulsem dla wielu artystów krajowej sceny muzycznej. Dowodem tego jest wydany w 2005 przez Jimmy Jazz Records album "Tribute to Partia", na którym swój muzyczny hołd dokonaniom kultowej formacji składa 24 wykonawców reprezentujących różne style muzyczne, a wśród nich m.in. The Analogs, Pustki, Muchy, Mitch & Mitch, Vespa, Happysad, Krzysztof Warga, Beri Beri, Wersja de Lux i wielu innych…
Ostatni koncert Partii odbył się 11 października 2003 roku w warszawskim klubie Galeria Off. Muzycy swoją artystyczną drogę do dzisiaj kontynuują w równie intrygujących Kometach, na koncertach sięgając po dokonania swojej poprzedniej formacji i wywołujące wśród fanów te same pozytywne reakcja jak przed laty. Dowodzi to niezbicie, że fenomen Partii pozostaje niepodważalny, a jej nagrania dziś i w przyszłości stanowić będą wskazówkę dla wielu artystów szukających inspiracji na krajowej scenie.
Wydany w ubiegłym roku przez Jimmy Jazz Records album "Umrzeć jak James Dean – The Besto of Partia" był podsumowaniem dorobku, którego Partia nie doczekała się przed laty, a jednocześnie początkiem zapowiedzianych reedycji kultowych płyt zespołu, na które zęby ostrza sobie wszyscy fani sprzed lat, a także ci, których fenomen grupy docenili dzięki "The Best of Partia".