"Jara sie"... nowy album retropunkowców z LD 50.
2009-03-24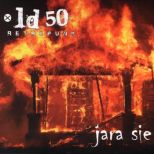 LD50 to punkowa załoga z lat 80-84, która powróciła na scenę w 2006 jako przedsięwzięcie przede wszystkim... towarzyskie. Jednak wspólne granie zaowocowało płytą "Retropunk" (Lou & Rocked Boys 2007) i koncertami w całym kraju.
Obecnie zespoł zarejestrował kolejny materiał, który właśnie pojwił się na płycie zatytułowanej "Jara się", wydanej podobnie jak pierwszy krążek przez wytwórnię Lou & Rocked Boys. Nowa odsłona LD50 to więcej energii i czadu. Podobnie jak poprzednio nie zabrakło na płycie celnych tekstów i wymiatającej altówki. Nowy, bardziej podkręcony, ostrzejszy w wymowie charakter krążka to efekt dwóch lat grania niemal wyłącznie na scenie D.I.Y. w towarzystwie zespołów spod znaku hc/punk oraz zaproszenia do studia gości z zespołów Delicje / El Banda.
"Jara się!" to 14 świetnych, zapadających w pamięć numerów, w tym wyjątkowy cover X-Ray Spex z roku 1978.
LD50 to band który zachował unikalny, "przed jarociński" styl charakterystyczny dla początków punk rocka w Polsce, a także autentyczność, werwę i 100% scenowej niezależności.
Płyta już do nabycia w naszym ---> sklepie.