JAYA THE CAT "First Beer Of A New Day" ponownie w sklepie. Do trzech razy sztuka???...
2013-07-25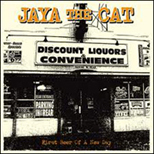 Winylowa reedycja klasycznego albumu zespołu Jaya The Cat jest ponownie dostępna w sklepie jimmyjazz.pl, a na nim mieszanka punk rockowej energii, szorstkiego ska i wibracji reggae, z silną domieszką "procentów". Jeśli coś Ci mówi nazwa Sublime, to koniecznie musisz zainteresować się JTC!!!

Album "First Beer Of A New Day" miał swoją premierę 10 lat temu na kompakcie. W okrągłą rocznicę wydania płyty niemiecki label spod znaku DIY: Ring Of Fire Records wypuścił reedycję na czarnym, 180 gramowym winylu.
Premiera płyty miała miejsce 12.04.13.
Tym razem krążek jest dostępny w naszym sklepie także  w formacie CD, a na dokładkę proponujemy wam na winylu najnowszy album Jaya The Cat zatytułowany "The New International Sound Of Hedonism"...
Biorąc pod uwagę to jak poprzednim razem płyty JTC "przeleciały" przez nasz sklep warto chyba pochylić sie nad wszystkimi pozycjami tej grupy zwlaszcza, że cześć z nich to ostatnie egzemplarze "wygospodarowane" przez wydawce specjelnie dla nas...

ZAMÓW:

---> LP JAYA THE CAT - "First Beer Of A New Day"
---> CD JAYA THE CAT - "First Beer Of A New Day"
---> LP JAYA THE CAT - "The New International Sound Of Hedonism"

********************

Jaya The Cat nie są powszechnie znani w naszym kraju, ale w Europie i na świecie ciężko pracują na miano wystrzałowej kapeli koncertowej, która umie też przekazać swoją energię na płytach. Takiej pozycji dorobili się, grając po kilkaset koncertów rocznie (!!!) każdy z nich zamieniając w regularną imprezę z piciem, tańcami i wspólnymi śpiewami. Jej uczestnikami na równych prawach są członkowie zespołu i widzowie. Co prawda wolą być gwiazdami na swoich koncertach, ale wielokrotnie dzielili scenę z wieloma innym kapelami, w tym z Sublime, Beatsteaks i Less Than Jake. Występowali też na wielu festiwalach.
Początki zespołu to końcówka lat 90-tych XX wieku w Bostonie. Tam nagrali swoją pierwszą płytę "Basement Style", która ukazała się w 2000 roku. Już w 2002 roku grupa przyjechała do Holandii i tam zakotwiczyła na dłużej. Dziś bazą i domem dla członków JTC jest Amsterdam.
Pierwszym europejskim albumem był właśnie "First Beer Of A New Day", który został znakomicie przyjęty przez fanów ska-reggowo-punkowego mixu. Od tamtej pory zespół wydał jeszcze dwie płyty studyjne i jedną koncertową. W międzyczasie pojawiła się winylowa wersja "First Beer…" wydana nakładem I Hate People Records….. dawno wyprzedana!!!!
W 2012 roku wydany został album "The New International Sound Of Hedonism" CD/LP, którym JTC udowodnili, że nadal świetnie poruszają się w w ska/reggae/punk rocku, ale z upływem czasu potrafią sięgnąć po calypso czy nawet nagrać bardziej dojrzałe kawałki ocierające się o pop.
Sięgnięcie po "First Beer…" to znakomity początek przygody z tym zespołem!