JANUARY PUNK FEST 2007
2007-01-02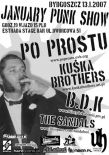 IF YOU CAN'T ROCKNROLL PRODUCTIONS oraz ESTRADA STAGE BAR BYDGOSZCZ zapraszają na JANUARY PUNK FEST, który odbędzie się w sobotę, 13 stycznia 2007 roku w Bydgoszczy - Estrada, ul. Dworcowa 51.
Bilety: 15 pln (tylko w dniu koncertu), start: 19.00.
Zagrają: PO POSTU, KUŚKA BROTHERS, BILETY DO KONTROLI i THE SANDALS.
PO PROSTU – legendarni punkowcy z Trójmiasta, jeden z najodważniejszych i najoryginalniejszych zespołów, jakie kiedykolwiek wystąpiły na scenie festiwalu w Jarocinie. Ich główny atut to charyzmatyczny i kontrowersyjny wokalista Szczepan, autor jedynych w swoim rodzaju, prześmiewczych, przeładowanych absurdem tekstów. Zespół praktycznie nigdy nie przerwał działalności, a jego skład uległ tylko nieznacznym zmianom.
KUŚKA BROTHERS – istniejący już 10 lat, dla wielu kultowy olsztyński zespół. Muzycznie odwołują się do początków punk rocka (Ramones, Sex Pistols), lubią też parodie znanych przebojów, wszystko to wzbogacone ironicznymi tekstami wokalisty o wiele mówiącym pseudonimie Sex.
Oprócz nich na koncercie wystąpią dwie młode kapele grające punk rocka w stylu ulicznym: trójmiejskie BILETY DO KONTROLI i poznańsko-bydgoscy THE SANDALS.