IMPREZA WARSZAWSKA
2008-07-11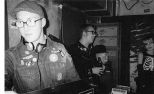 01.08. piątek
IMPREZA WARSZAWSKA
Klub DOBRA KARMA, ul. Górczewska 67, Warszawa
Start 20.00, wst. 10 zł
Koncert – SKLEROZA
Potańcówka – SZEMRANE TANGO (DJ Czerniak)
Pokaz zdjęć dawnej Warszawy
Pod wódeczkę ogórki kiszone i chleb ze smalcem
Jadziem, panie Zielonka!
SKLEROZA to projekt muzyczny powstały z inspiracji WOJTKA SZEWKO, basisty żoliborskiego zespołu TRAWNIK.
W tym składzie gra on na banjo tenor i śpiewa piosenki w typowo warszawskim stylu. Są to szlagiery znane zarówno z repertuaru STANISŁAWA GRZESIUKA, jak i KAPELI CZERNIAKOWSKIEJ, ale także ANDRZEJA ROSIEWICZA z ASOCJACJĄ HAGAW, JAREMY STĘPOWSKIEGO, MIECZYSŁAWA FOGGA i KABARETU STARSZYCH PANÓW. W stylistyce warszawskiej WOJTEK SZEWKO szlifował swój warsztat, pod czujnym okiem SYLWESTRA KOZERY, bandżolisty KAPELI CZERNIAKOWSKIEJ, grając z nim w RÓŻYC ORKIESTRA.
Projekt wspomagają swoim kunsztem i talentem:
ŁUKASZ KURPIEWSKI – trąbka
MATEUSZ WŁODARCZYK – kontrabas
OLEK ORŁOWSKI – perkusja

SZEMRANE TANGO - potancówka z warszawskim folkiem, imprezy pod tym hasłem organizowane są od dwóch lat w różnych warszawskich klubach przez DJ'a Czerniaka, młodego entuzjastę klimatów muzycznych z syreniego grodu. Nie zabraknie muzyki takich sław jak: Stanisław Grzesiuk, Jarema Stępowski czy Kapela Czerniakowska. W ten szczególny dzień DJ Cerniak zaprezentuje również piosenki okupacyjne i powstańcze.
Organizator: Piotr "Pietia" Wierzbicki, Tel. 501335832, callmeanimal@wp.pl