HARDFEST 2008
2008-10-16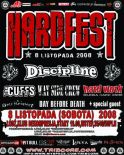 DISCIPLINE (HARDCORE/OI)
TO NAJLEPSZY BAND OD MOMENTU ZAŁOŻENIA AGNOSTIC FRONT I MADBALL. ICH MUZYKA TO HARDCORE/OI W NAJLEPSZYM ZESTAWIENIU. NA HARDFEST WYSTĄPIĄ PIERWSZY RAZ W POLSCE. ICH AKTUALNE TEKSTY ORAZ REWELACYJNE BRZMIENIE PRZYCZYNIŁO SIĘ DO TEGO, ŻE ZALICZANI SĄ DO NAJLEPSZYCH OBECNIE ZAŁÓG!
więcej : www.myspace.com/disciplineband
WAY SIDE CREW (HARDCORE/OI)
więcej : www.myspace.com/thecuffsrockon

THE CUFFS (ROCK`N`ROLL/BDG)
więcej : www.myspace.com/thecuffsrockon

HARDWORK (HARDCORE SILESIA!)
więcej: www.myspace.com/hardworksilesia

SELF RESPECT (HARDCORE WROCŁAW!)
więcej: www.myspace.com/selfrespecthc
DAY BEFORE DEATH (HARDCORE ŁÓDŹ!)
więcej: www.myspace.com/daybeforedeathhc

+SPECIAL GUEST

8 LISTOPADA (sobota) 2008 r.
ŁÓDŹ, klub DEKOMPRESJA, ul. LIMANOWSKIEGO 200
start : 19.00
bilety : 50 zł - w dniu koncertu,
40zł - przedsprzedaż :
· ŁÓDŹ, Klub "DEKOMPRESJA"
· ŁÓDŹ, SKLEP " DIZASTER", UL. PIOTRKOWSKA 79
· Bileteria SHORTCUT

Informacje i bilety :
tix@tribcore.com lub www.tribcore.com oraz www.myspace.com/tribcore

DISCIPLINE - BIO
---------------------------------------
W 1995 r. zespoł po 5 latach istnienia wydaje pierwsza ep "Stompin' Crew" w wytwórni LOST & FOUND RECORDS w Niemczech. Za nią podążył pierwszy album "Guilty as Charged" z 1996 r. Reakcje na ten wybuchowy zestaw w klimacie Streetcore były przytłaczająco pozytywne, a chłopaki dali sporo występów włącznie ze wspólną z The Business trasą po Europie, której zadaniem było wypromowanie albumu na rynkach europejskich.
Na początku 1998 r. również za sprawą L&F Records ukazał się album "Bulldog Style". Na tej płycie Discipline starało się już połączyć to co najlepsze z dwóch światów: Oi i Hardcore. Ten album odniósł wielki sukces na podziemnej scenie. Ciężką pracą zespół zdobył sobie reputację dobrego performera dającego energetyczne koncerty.
w 1999 zespół podpisał kontrakt z wytwónia I SCREM RECORDS


Pierwszy wypust z nowym producentem to album "Nice Boys Finish Last". Wraz z ta płytą Discipline zyskało sobie silną pozycję na szczycie europejskiej sceny Street Rocka. W ramach promocji tej płyty Discipline zagrało kilka tras w Europie w towarzystwie takich kapel jak Agnostic Front, Dropkick Murphy's i US Bombs.

Następną płytą była "Love Thy Neighbor" wydana pod koniec 2000 r. Miesiąc wcześniej wydana już była EPka "Hooligans Heaven". Ten utwór okazał się prawdziwym hitem na scenie undergroundowej i pośród kibiców piłkarskich.
Aby wypromować tę płytę, Discipline wzięło udział w "UNITY Tour 2000" z Agnostic Front, Ignite, Shutdown i The Forgotten.

Latem 2003 r. światło dzienne ujrzał singiel "Everywhere We Go". Ten kawałek to kolejny hymn piłkarski i zdołał stać się już właściwie klasykiem! Kilka miesięcy później wydane zostały 2 albumy równocześnie. Najpierw była płyta koncertowa wspólna z braćmi w muzyce Agnostic Front z Nowego Jorku, a kilka tygodniu później nowy pełnometrażowy album "Saints & Sinners".
Dla promocji tego albumu zespół wziął udział w pierwszej edycji Resistance Tour Eastpaka w Europie, a także odbył swoją pierwszą trasę po Stanach Zjednoczonych wraz z Dropkick Murphy's, AF, Hatebreed.

Zespół promował swoją płytę grając na wszystkich dużych letnich festiwalach i dał sporo koncertów klubowych jako główna gwiazda.

Poprzez liczne trasy i występy Discipline zdobyło sobie sporą grupę wiernych fanów w Europie i Stanach Zjednoczonych. Oprócz występów w roli głównej gwiazdy zdarzało im się często grać wespół z Agnostic Front, The Business, Cock Sparrer, Madball, Sick of it All, Dropkick Murphy's, Cockney Rejects, Biohazard oraz Ignite. W ostatnich kilku latach zespół starał się być obecny na wszystkich największych europejskich festiwalach takich jak: Dynamo Open Air, Graspop, Holidays In The Sun, With Full Force, Pressure-Fest, Punk&Disorderly, Vans Warped Tour i The European HC Parties!!
Aktualnie Discipline ustalil nowe terminy koncertów, włączając w to trasę w najwiekszych miastach Europy z Sick of it all oraz pierwsze w historii odwiedziny w Polsce na festivalu HARDFEST! Będzie to na pewno szczególne wydarzenie!