Gdzie jest futerał? - Solowy album wokalisty KOLABORANTÓW...
2013-09-15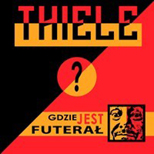 "Gdzie jest futerał?" to tytuł najnowszego solowego albumu Przemysława Thiele.. na codzień wokalisty szczecińskich KOLABORANTÓW, który od lat regularnie realizuje swój solowy projekt podsumowując kolejne muzyczne pomysły wydawanymi dość regularnie płytami.
THIELE to w większosci przypadków muzyka zdecydowanie różniąca się od tego co znamy z dokonań Kolaborantów jednak z pewnością warta zainteresowania...
Dla tych słuchaczy, którzy lubią urządzać sobie wycieczki poza granice stylów i lubią takie wycieczki w wykonaniu swoich ulubieńców krążek "Gdzie jest futerał?" moze okazac się ciekawym wydarzeniem.
Warto spróbować bo wbrew pozorom zarówno Kolaboranci jak i Thiele zdają się nadawać na podobnych falach.

Płyta jest juz dostepna w naszym sklepie...

Zamów ---> CD THIELE - Gdzie jest futerał?