Garaż # 24 już wkrótce...
2006-06-01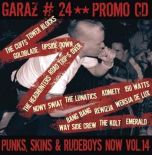 Nowy, 24 numer GARAŻU trafi do sklepów w pierwszej połowie czerwca i - tradycyjnie - jeszce przed wakacjami powinien znaleźć się w rękach czytelników. Nowa edysja pisma przynosi jak zwykle spora porcję materaiłów o wykonawcach z kręgu punk, ska i hardcore.

Tym razem z myślą o fanach ska redakcja przygotowała wywiady z Markiem Foggo i legendą jamajskiego ska/reggae The Skatalites. Poza tym dominują ostrzejsze brzmienia, a na stronach pisma znaleźć będzie można m.in. wywiady z The Kolt, Rewizją, Social Combat, Headhunters, Upside Down, The cuffs, Tower Blocks, Goldblade, Road Trip's Over, 666 Aniołów, The Lunatics, Robertem Brylewskim, Dee Facto, Istukas Over Disneyland... Biografie zespołów to w tym numerze przede wszystkim obszerne historie Toy Dolls, Bohse Onkelz i The Oppressed, a w kolejnym odcinku z cyklu Punk Egzotyczny, rys historyczy poświęcony scenie punkowej w Szwecji.

Nieco mniejsz czcionka - to juz kolejny ruch w tą stronę - to więcej materiałów do czytania, a pośród nich jak - zwykle - także obszerny Manipulator z recenzjami wydawnictw muzycznych i niezależnej prasy.
Do gazety starym zwyczajem dołączona jest płyta. Składanka "Punks, Skins & Rudeboys Now vol. 14" zaprezentuje nagrania m.in.takich wykonawców jak: Nowy Świat, The Cuffs, Tower Blocks, Goldblade, Way Side Crew, Lunatics, Road Trip's Over, Upside Down, the Kolt, The Cuffs, Komety, The Headhunters, Bang Bang, Rewizja, Emerald, Wersja De Lux, 150 watts. wiele nagrań to utwory wcześniej niepublikowne, a uzupełnia je teledysk Way Side Crew do utworu "Rewolucja".

Gazeta wkrótce w dystrybucji na naszej stronie i w sieci salonów prasowych.