GREEN MONSTER + MIGUEL & THE LIVING DEAD
2006-01-31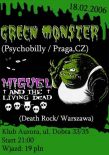 18.02.2006 Green Monster i Miguel And The Living Dead w warszawskiej Aurorze.
Green Monster to najlepsza czeska kapela psychobilly. Grają szybko czadowo i bardzo rockandrollowo, trochę w stylu Demented Are Go. Zespół tworzą Tomas Pankac – kontrabasista, Mordor na gitarze, Vrata Placheta Jnr na perkusji, a wszyscy pod wodzą Radima "Cosmo" Kosmaka – wokalisty, gitarzysty i mózgu grupy. Green Monster występowali już w Warszawie w kwietniu 2004. Koncert miał miejsce w Punkcie, gdzie bez wysiłku przebili gwiazdę tamtego wieczoru, czyli francuski Kryptonix i zdobyli serca warszawskiej publiki. Podróżowali sporo po Europie, grając koncerty z wielkimi tego gatunku takimi jak Long Tall Texans, DAG, Mad Sin czy Frantic Flintstones. Dwukrotnie wystąpili na największym europejskim psychobillowym festiwalu w hiszpańskiej Calelli. Dwukrotnie grali też z naszymi polskimi Robotixami; w Niemczech i w Czechach. Utwory usłyszeć można na płycie "100.000 Punkrockers In The Green Valley" oraz na ich stronie internetowej.
Drugim rodzynkiem imprezy będzie warszawska formacja Miguel and The Living Dead, grająca muzykę nawiązującą do gotyku, rockandrolla i horror punka. Zespół jest absolutną gwiazdą deathrocka w Polsce, święcił także tryumfy na scenach Niemiec, Francji, Włoch, Belgii, Luxemburga, Czech i Austrii. W Austrii też wydali pierwszą płytę "Alarm", której recenzje znaleźć można w magazynach muzycznych różnych krajów Europy. Ich nagrania trafiły do amerykańskiego radia, znaleźć je można także na stronie zespołu.
W Polsce Miguel'e przyciągają na swoje koncerty wciąż rosnącą rzeszę fanów. Horrorowo rockandrollowe dźwięki, image, ich perfekcja i klimat doprawdy robią swoje.
Obie grupy będziemy mieli okazję obejrzeć w klimatycznym warszawskim klubie Aurora w sobotę 18 lutego.
Po koncercie muzyka z płyt - zapewne DJ Crazy Senorita i DJ Nerve. Szykuje się uczta dla ucha i dobra impreza dla rockandrollowych dusz wszelkiej maści.
Klub Aurora
Ul. Dobra 33, Warszawa – Powiśle
Zagrają:
- Miguel and The Living Dead
- Green Monster
- DJe: Crazy Senorita i Nerve69
Start: 21:00
Wstęp: 19 pln
More info: CrazySenorita@gmx.net