GARAŻ # 29 dostępny!!!!
2010-11-20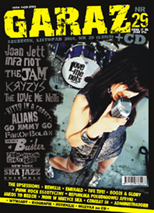 Pierwsze egzemplarze GARAŻ-u # 29 już docierają do wyposzczonych oczekiwaniem czytelników. Tradycyjnie nowy numer jest gorszy od poprzedniego bo od 25 lat staramy się podtrzymywać tą chwalebną tradycję wychodząc naprzeciw oczekiwaniom członków "Wyścigowego Teamu Dopierdalaczy Wyszystkim i Za Wszytsko", którego jesteśmy fanami.... Z nadzieją, że i tym razem ich nie zawiedziemy dyszymy w niepewności do momentu ostatecznego zmaterializowania się pisma.
Dyszymy podwójnie bo taką samą nadzieję wiążęmy z tymi, którzy po gazetę sięgają od lat i chwalą nas pod niebiosa bo liczymy na kolejne podniebne pochwały... a poza tym dyszymy sobie też rekreacyjnie bo zajebiśćie lubimy sobie podyszeć co jakiś czas, i właśnie wypadło, że to teraz....
Garaż # 29 różni się od poprzedniego wszystkim oprócz ceny i objętości... no i małych rotacji personalnych, które są już chlebem powszednim bo wiadomo, że jak część zespołu redakcyjnego strąca gruchy to reszta pracuje, a potem na odwrót...
Okładkę Garaż ma fajną choć oczywiście najgorszą ze wszystkich dotychczasowych, a o zawartości to już szkoda gadać... No bo kogo może interesować jakieś mizerne 80 stron wywiadów, biografii, recenzji i tym podobnych popierdółek... Każdy jest w stanie coś takiego puknąć w jedno popołudnie więc to żadne osiągnięcie... Gdyby jednak ktoś miał ochotę poznać zawartość nowej edycji pisma to może się spodziewać jak zwykle kilku mniej lub bardziej obszernych wywiadów i takich samych biografii, których celem jest zainteresowanie w równej mierze tych, którym bliżej do punk rocka jak i tych, którzy preferują bardziej jamajskie dźwięki czy też lubią otrzeć się o bardziej rock'n'rollowe, a czasem nawet piekielne brzmienia.
Punkowa część magazynu to tym razem dwie obszerne biografie INFA RIOT i COMBAT 84, a w części wywiadowczej rozmowy z polsko-brytyjską Oi!-ową formacją BOOZE & GLORY, cover-punkowcami z JAKOŚ TO BĘDZIE, TIFE TIFE! wiernymi tradycji punk 77, odmienioną personalnie i bezkompromisową REWIZJĄ i reprezentującymi bałkański punk FAKOFBOLAN. Stała rubryka Punk Rock Egzotyczny prowadzi tym razem do RPA, a łącznikiem między punk rockiem i ska jest wywiad z odrodzonymi PODWÓRKOWYMI CHULIGANAMI... jeszcze bardziej w stronę rytmicznej pulsacji wiedzie czytelników obszerna rozmowa z Kazim na temat ostatnich lat działalności i nowej płyty ALIANSU.
Tych, którzy lubią sobie podskoczyć przy karaibskich rytmach w pełni powinny zadowolić także wywiady z THE UPSESSIONS, pochodzącymi z Hawajów GO JIMMY GO i mega-story poświęcone jednej z legend jamajskiego ska PRINCE BUSTER'owi.
Z powodów oczywistych podróż w czasie funduje długi wywiad z ROBERTEM BRYLEWSKIM - dla którego przyczynkiem była premiera albumu KRYZYSU, wieki całe po scenicznym debiucie zespołu. To też jeden z tych materiałów, który powinien wprowadzić czytelników na nieco inne muzyczne tory niż te najbardziej kojarzone z Garażem... Czasem dobrze jest przełożyć zwrotnicę aby nieco zboczyć, nie zanudzać i pokazać rzeczy pokazania warte, choć pozornie nieco odległe od tego co wszyscy lubimy najbardziej bo... warto dać się czasem zaskoczyć.
Takim zaskoczeniem tym razem jest bezsprzecznie amerykańska formacja THE LOVE ME NOTS, która swoim eklektycznym repertuarem urzekła już niejedną osobę, a zdaje się dopiero zbierać żniwo swoich działań. Wystarczy przeczytać wywiad z nimi, odwiedzić ich profil ma Myspace, a nic już nie będzie takie samo...

Szczeciński EMERALD na drugim albumie dał taką zmianę, że palce lizać. Zwolennicy folk-rockowego soundu powinni sięgnąć po wywiad z Lechem, liderującym kapeli bo rozmowa warta jest tego aby poświęcić jej parę minut. Kawałki grupy do przesłuchania na garażowej płycie.
Jeśli komuś brak w Garażu post punkowego power-popu to ma tym razem możliwość poznania historii THE JAM, którzy w latach 70-tych ub. wieku próbowali tchnąć nowego ducha w środowisko brytyjskich modsów, a zwolennicy punk rocka wymieszanego z glamem i rock'nrollem nie pogardzą historią THE RUNAWAYS, JOAN JETT i jej THE BLACKHEARTS. Wreszcie zjazd do piekła w rytmach psychobilly funduje rewelacyjna formacja KITTTY IN A CASKET, którą poznać można za sprawą wywiadu, a garażowe granie przybliży debiutująca grupa ADMINISTRATORR...
Związki muzyki ska z filmami w stylu Noir ujawnia tekst "Noir w muzyce Ska", a dopełnieniem numeru jest niezawodny jak zwykle i obszerny ponad miarę Manipulator, w którym recenzenci zachęcają lub zniechęcają do poznania wydawnictw jakie w ostatnim czasie wpadły w ręce redakcji...
No i płyta garażowa.... jak zwykle głównie z muzyką stanowiącą ilustrację do tekstów choć tym razem pojawia się także kilka zapowiedzi i premier plus dwa teledyski. Ale to już materiał do bezpośredniej analizy... a tracklista garażowego krążka do wglądu na ---> stronie produktu....
Zamów ---> GARAŻ #29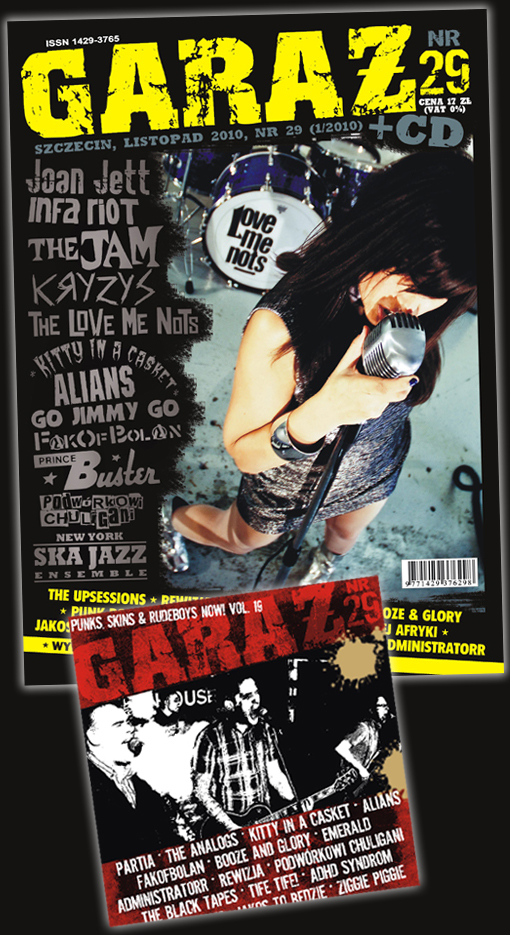 Odwiedzajcie garażowy profil ---> FACEBOOK-a... tam do przeczytania wstępniak z nowego numeru Garażu.