GARAŻ # 28 już dostępny!!!
2009-11-29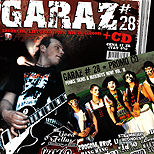 Miło nam poinformować, że jest już dostępny nowy numer Garażu. Gazeta jak zwykle uzupełniona jest płytą CD i zawiera zarówno materiały przewidywalne jak i te, które mogą zaskoczyć.
Tym razem czytelnicy mogą wyruszyć na spotkanie z SHAM 69 poznając drugą część ich historii. Na Bałkany zaprasza punk-folkowa formacja ZBOGOM BRUS LI, w świat northern soulu wabią dziewczyny z PEPPER POTS, rewelacyjni STRAWBERRY BLONDES właśnie promują swój drugi album i udzielają nam wywiadu, o punk "emerytach" przypomni materiał o THE LURKERS, a swingowo podkręcą THE GOOD FELLAS.
Jeśli ktoś dobrze czuje się w towarzystwie pięknych, martwych dziewczyn i punkowców z odrąbanymi głowami to pochłonie go rozmowa z Doug'iem Sakmann'em, twórcą punkowych horrorów i pornoli. Specyficzne poczucie humoru lidera THE MATADORS odbierze wielu czytelnikom sen na kilka dni, a ukojenie przyniesie historia punk rocka w Belgii i wątki bardziej łagodne w postaci wywiadów ze ska formacjami JAZZBO, YELLOW UMBRELLA i legendą muzyki jamajskiej Toots'em Hibbert'em (TOOTS & THE MAYTALS).
Na znużenie materiałami spoza naszego rodzimego podwórka też znajdzie się lekarstwo. MARTIN SOLO swoją debiutancką płytą zaintryguje fanów Nowego Świata i Komet, COI!OTS nie pozostawią wyboru fanom punk 77, LD50 porwą wszystkich jak leci, BLACK TAPES pokażą, że można z powodzeniem grać w Polsce garażowego rock'n'rolla, SKANKAN odwiedzają Garaż po wielu latach w nowym składzie i z nową płytą. BACHOR nie kryje, że trzyma się dobrze, PERSONA NON GRATA debiutuje na płycie i opowiada o sobie i Jarocinie kiedyś i dziś, a BANG BANG o nowym albumie i Legionowie. SARI SKA BAND to kilka chwil radości dla fanów krajowego ska... Najmłodsza generacja punkowych muzyków zaprezentuje się za sprawą materiałów o ADHD SYNDROM, OFICYNIE i RIGHT?
I to oczywiście nie wszystko... ULICZNY OPRYSZEK, HARTAL czy tekst o związkach punk rocka z WEST HAM UNITED też przykują do łamów Garażu na kilka chwil... no i jest jeszcze Manipulator.... czyli fura płytowych recenzji....
Tych kilka zdań nie oddaje oczywiście wszystkiego z czym przyjdzie zetknąć się tym razem. Darmowa płyta CD dołączona do pisma tradycyjnie stanowi ilustrację do zawartości pisanej i tym razem znajdziemy na niej dokonania bohaterów tekstów z wnętrza numeru, choć nie tylko... Szczegółowa tracklista na karcie produktu w naszym sklepie....
Pismo powinno trafić do salonów prasowych za kilka dni... My już dziś zapraszamy do zakupów i lektury...

Zamów ----> GARAŻ #28