GARAŻ # 27.... lada chwila...
2009-01-04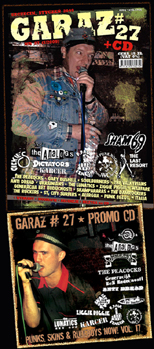 Pierwsza nasza wiadomość w Nowym Roku jest taka, że życzymy Wam wszystkiego najlepszego..., a druga, że nowy numer Garażu już się grzeje i lada moment powinien być gotowy.
Planowane pojawienie się edycji 27 w naszym sklepie i salonach prasowych to okolice połowy stycznia 2009.
Ponieważ ostatnie spotkanie z czytelnikami miało miejsce w czasach dość odległych więc z konieczności nowy Garaż przynosi kilka stron więcej (przy zachowanej, dotychczasowej cenie)... i wiele materiałów, które z pewnością usidlą Was na kilka chwil.... kolejne już czekają na publikację w nastepnej odsłonie.

Tym razem rodzime, muzyczne podwórko na łamach pisma reprezentują THE ANALOGS, ANTI DREAD, SOULBURNERS, THE LUNATICS, ZIGGIE PIGGIE, ST. CITY SURFERS, SKAMPARARAS, THE DAMROCKERS, KARCER, WC i WARFARE, których poddano gruntownej obróbce wywiadowczej.
Ten sam los spotkał przedstawicieli bałkańskiego punk rocka jakimi są w tym przypadku formacje GENERACIJA BEZ BUDUCNOSTI i ALEGRIJA.
To tyle z tej strony Europy....

Po latach sukcesem zakończyły się nasze starania, których celem było przeprowadzenie wywiadu z ikoną muzyki psychobilly, liderem THE METEORS, autorem solowych płyt i uczestnikiem wielu muzycznych projektów - P.PAUL FENECH-em.
Rock'n'rollowe poletko uprawiają także przepytywani tym razem THE PEACOCKS, post punkowo, na folkową nutę nadają UKRAINIANS, ska reprezentują THE VALKYRIANS, a streetpunk THE RUCKERS.
Z pewnością wydarzeniem numeru jest także wywiad z GARY BUSHELL'em - dziennikarzem, animatorem i nadal aktywnym muzykiem, którego losy splecione są nierozerwalnie z historią brytyjskiej sceny punk.

W dziale poświęconym biografiom, historiom zamkniętym i rozwijającym się nadal czytelnicy będą mogli zapoznać się z takimi wykonawcami jak SHAM 69, THE LAST RESORT, THE DICTATORS i THE DICKIES, a uzupełnieniem wielu historycznych odniesień będzie wizyta w ITALII, w ramach stałego cyklu PUNK ROCK EGZOTYCZNY.
MANIPULATOR tym razy nabity jest recenzjami do granic wytrzymałości, choć i tak z częścią trzeba było poczekać do nastepnego razu...
Jak zwykle na dokładkę płyta CD, na której spotkacie wiekszość wykonawców obecnych w numerze. Bez zbędnej wyliczanki i idąc na skróty, poniżej prezentujemy tracklistę garażowej płyty - GARAŻ # 27.
PUNKS, SKINS AND RUDEBOYS NOW! vol.17
01. ST. CITY SURFERS - "Escape From The Wave" (2:06)
02. THE ANALOGS - "Przegrany" (3:06)
03. ALERGIJA - "Bolji svijet" (3:52)
04. THE LUNATICS - "Lost in the supermarket" (2:17)
05. ANTI DREAD - "Cały czas mówiłaś" (2:38)
06. SKAMPARARAS - "W imię czego" (3:06)
07. THE PEACOCKS - "I'd Rather Be Alone" (2:13)
08. THE SOULBURNERS
- "2000 Fucking Years Of Rock" (4:03)
09. THE ANALOGS - "Brzytwa" (3:23)
10. WC - "Nie chcę jeszcze umierać" (2:18)
11. ZIGGIE PIGGIE - "Skinhead Girl" (3:39)
12. KARCER - "Ballada oszukanych" (3:16)
13. GENERACIJA BEZ BUDUCNOSTI - "Ne predaj se" (2:37)
14. THE LUNATICS - "Skarby" (3:05)
15. ST. CITY SURFERS - "Woman With A Gun" (2:35)
16. P. PAUL FENECH - "Just Killing Time" (3:36)
17. THE SOULBURNERS - "Rock Band" (3:30)
18. ANTI DREAD - "Ostatnia podróż" (3:12)
19. SKAMPARARAS - "O kolesiach dwóch" (6:19)
20. ALERGIJA - "Živio red" (3:35)
21. GENERACIJA BEZ BUDUCNOSTI - "Olovna jutra" (4:01)
22. KARCER - "Kłamstwo" (1:15)
23. WC - "Zsumienie" (1:55)
24. ZIGGIE PIGGIE - "9 listopada" (4:20)

Już dzisiaj zamówienia na Garaż # 27 składać można w naszym sklepie na stronie JIMMY JAZZ RECORDS. W przypadku zamówień połączonych z innymi produkami, wysyłkę realizować będziemy w jednej paczce, po otrzymaniu Garażu z drukarni.