GARAŻ # 26 - Wkrótce!!!
2007-11-20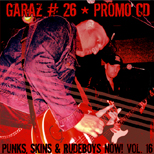 Nowy numer GARAŻU, najwiekszego polskiego magazynu poświeconego muzyce ulicznej, już wkrótce trafi do salonów prasowych i dystrybucji. Dostępny będzie także w naszym sklepie.
Najprawdopodobniej 26 numer pisma będzie można zamówić juz na przełomie listopada i grudnia - odwiedzajcie naszą stronę, to najpewniesze źródło bieżacych informacji na ten temat.
Objętość gazety taka jak zwykle, choć zawartość zdecydowanie obszernijsza. Wobec większej - ponownie - ilości materiałów przygotowanych do tego numeru, życie zmusiło nas do kolejnych radyklanych ruchów w kwestii stosowanego rozmiaru czcionki... :-)
Tradycyjnie, fani Punk, Oi!, Ska, Psycho i Hardcore... bez problemów powinni w Garażu znaleźć coś dla siebie. Tym razem czekają ich opowieści o 4-SKINS, THE BOYS, BLITZ, druga część historii BOHSE ONKELZ i wizyta w punkowo-egzotycznej SZWAJCARII.
Nasi wywiadowcy przygotowali też dość pokaźną ilość rozmów, wśród dktórych znajdziecie m.in.:
- THEE MERRY WIDOWS - wywiad z ostrymi, sajkowymi dziakami ze Stanów...
- FRANKIE "BOY" FLAME opowiada o sobie i swojej kapeli SYPERYOB...
- THE BONES podczas wizyty w Polsce mówią o nowej płycie i nowym wydawcy...
- LESŁAW zdradza kulisy pracy nad ostatnią płytą KOMET...
- MIGUEL & THE LIVING DEAD o swojej nowej płycie i nie tylko...
- MAD CADDIES "tłumaczą się" z nowego muzycznego oblicza...
- WC - zaproszenie do "Jurassic Punk"-owego świata...
- BABAYAGA OJO - powrót po latach w ostrzejszyej odsłonie...
- LD50 - punk rock jak za dawnych lat....
- NASTY HABITS szykuja materiał i szukają wydawcy...
- PILS - świeży powiew krajowego punk 77 z poludnia...
- ROZPOR o sobie, D.I.Y. i słowackiej scenie...
- PRAWDA - przebudzenie z letargu punkowych weteranów...
- SPIDER CREW - hardcore'owe pająki z Wiednia...
- BOMB THE WORLD - czekając na hc/punkowy debiut... kilka słow o....
Ponadto polecamy rozmowę z Tonu Trubetsky'm - liderem estońskiej grupy Flowers Of Romance będącej kontynuacją kultowej formacji VENNASKOND, obszerny wywiad z PIOTREM WOJCIECHOWSKIM - twórcą magazynu "Tatuaż - Ciało i sztuka", a także grafikiem, aktorem i muzykiem. Formacja THE TOSSERS przybliży się zwolennikom klimatów celtyckich w punk rocku, a RADIO BAGDAD spróbuje zainteresować tych, którym nie wystarczy "prosty rytm, prosta gra". Świeża krew w stylu melodisc punk to formacja UNIT LAUNDRY...
To oczywiście nie wszystko bo, jak zwykle, mamy dla Was petardę w postaci MANIPULATORA gdzie, do woli i dośc długo możecie buszować w gąszczu recenzji najświeższy płyt CD, winyli i DVD.
Dopełnieniem gazety jest promo-CD, na którym znajdziecie ilustrację muzyczną do wielu wywiadów, a także nagrania z najnowszych, badź zapowiadanych wydawnictw płytowych.
Poniżej tracklista z zawartością garażowego CD:
PUNKS, SKINS AND RUDEBOYS NOW! vol.16

1. KOMETY - Pozer (2:48)
2. WC - We śnie (1:22)
3. MAD CADDIES - Tired Bones (2:51)
4. BOMB THE WORLD - Pacing Time Bomb (1:57)
5. PRAWDA - P.R.A.W.D.A. (3:11)
6. PILS - Świnie (3:16)
7. THEE MERRY WIDOWS - Talk Shit, Spit Blood (2:27)
8. DUMBS - Sunday Punk (1:54)
9. SUPERYOB - The Strenght Of The Nation (3:43)
10. KARCER - Ojczyzna (3:00)
11. THE BONES - Hey Baby (2:22)
12. MIGUEL & THE LIVING DEAD - Witchcraft Specimen (4:18)
13. LD50 - Stoen (2:25)
14. ROZPOR - Ja som ja (1:52)
15. NASTY HABITS - Don't Ask Why (3:35)
16. WC - Pozycja (2:39)
17. SUPERYOB - What'd Yer Say (2:37)
18. PILS - Tyski Song (3:11)
19. LD50 - Krzyk (2:49)
20. PAVULON TWIST - Perfect Kiss (2:36)
21. PRAWDA - Pozytywka (3:07)
22. KARCER - Zapisana szyba (3:07)
23. KOMETY - Wreszcie w ciąży (4:07)
24. THE BONES - Half Of Nothing (2:58)
25. DUMBS - Hey Little Girl (1:34)
26. ROZPOR - Ostrazitost (3:27)