ELECTRO HIPPIES - Kolejna winylowa pozycja z Liberation Records
2011-01-18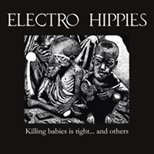 Jak na grupę istniejącą zaledwe 4 lata ELECTRO HIPPIES zdążyli porządnie namieszać na scenie niezależnej. Powstali w 1985 roku w St. Helens / Wigan w Anglii od poczatku oddając się bez reszty brzmieniu będącemu wypadkową crust punk i thrashcore. Choć między rokiem 1985, a definitywnym zakończeniem dziłalności w 1989 roku nagrali zaledwie kilka albumów, EP-ek i splitów (m.in. z Generic i Napalm Death) czesto publikując nagrania koncertowe to ich dokonania stały się dużą inspiracją dla późniejszych wykonawców crust punk, hardcore i trashcore. Dzięki wykorzystywaniu w swojej muzyce wpływów metalu często określani są protoplastami grindcore. Wiele lat po zaprzestaniu dziłalności nadal inspirują muzycznie jak i tekstowo będąc dla wielu wzorem oddania idei DIY i tekstowemu zaangażowniu w walkę o prawa zwierząt i propagowanie wegetarianizmu.
Grupa doceniona zastała przez legendarnego John'a Peel'a realizując dla niego sesję nagraniową w 1987 roku wydaną na jednej z EP-ek firmowanych przez zespół.
Fani zespołu i reprezentowanego przez niego brzmienia mają okazję uzupełnić dyskografię grupy o wydany własnie album.

Podobnie jak w przypadku innych wydawnictw Liberation Records płyta ukazała się na winylu w limitowanym nakładzie 300 kopii i przeznaczona jest głównie na rynek zagraniczny. Album zatytułowany "Killing Babies Is Tight... And Others" zawiera 27 kompozycji Electro Hippies pochodzących z dwóch demówek grupy nagranych w 1986 i 1987 roku ("Killing Babies Is Tight" + "If Killing Babies is Tights, Killing Babies For Profit Is Even Tighter"). Wspomniane nagrania uzupełnione zostały trzema kompozycjami z 1985 roku z udziałem Kate (wokalistki występującej z zespołem w pierwszym okresie działalności) oraz nagraniami koncertowymi zarejestrowanymi w Liverpoolu w 1986 roku.

Fanów grupy zapraszamy do wizyty w naszym sklepie...
Sprawdź ---> LP ELECTRO HIPPIES "Killing Babies Is Tight... And Others"