Drugi album orkiestry SARI SKA BAND...
2013-10-31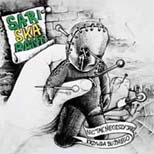 Drugi album w dorobku każdego zespołu to zawsze trudny moment, Sari Ska Band wyszli z tego testu obronną ręką.  Ich  najnowszy krążek nosi tytuł "Nic tak nie cieszy jak krzywda bliźniego".

Na nowej płycie jest dojrzalej pod każdym względem, w tym muzycznym i tekstowym. Zaczyna się niepozornie, lekko pulsujące instrumentalne intro dobrze nastraja. Potem wchodzi niby-reggae, które przeradza się w imprezowy kawałek prawie 2 tone ska pt. "Komers". Klimat jest utrzymany w kolejnym numerze "Tacy jesteśmy", ale zaraz rozpoczyna się część "regałowa" z poważniejszymi lirykami. W numerze "Follow Me" jest nawet wstawka toastowa, czy jak kto woli rapowa, w gościnnym wykonaniu Metrowego. Następne dwa kawałki - "Daj mi swą siłę" i "Gdybym był"- to czas na przemyślenia o sprawach życia i miłości.
Z pulsującego reggae transu wyrywa słuchacza latynosko-imprezowa "Serena Bianco" i zaczyna się prawdziwa ska hulana! Trwa ona w najlepsze przy genialnym numerze "Seniorita"! To 100% Sari Ska Band, świetnie zagrane ska, ze swingowymi wstawkami i do tego kilka smacznych wstawek na klawiszu. REWELACJA!! Najlepszy numer na płycie. Po takim "kocie", jak nie wiadomo co zagrać, się sięga  po koło ratunkowe. Muzycy SSB posłużyli się wypróbowanym patentem i postawili na "pewniaka". Dansingowo-discopolowy szlagier "Daj mi tę noc" z repertuaru grupy Bolter. Reakcje na ten utwór w oryginale są bardzo różne. Jednak trzeba mu oddać, że ma swoje miejsce w historii polskiej muzyki rozrywkowej, niezależnie od tego czy się go kocha czy nienawidzi. Przeróbka SSB się broni i nikt nie powinien mieć wątpliwości, że to nie hołd złożony mistrzom kiczu i elektronicznej perkusji, a jedynie skankowa wersja numeru do tańca, z kategorii "lubię utwory, które już raz słyszałem" ale "nie jest to rodzaj muzyki, którego słucham na co dzień".

Końcówka to odcięcie się w piosence "Diss'co" od ewentualnych posądzeń do zmianę stylu kapeli na disco polo, lekko skaos'owy "Chłopak na opak". Jest jeszcze epilog, ale w tej kwestii głos ma sam zespół: "ostatnim numerem na płycie jest hołd złożony dwunastokrotnemu mistrzowi Polski w czarnym sporcie czyli "RKM Row Rybnik" (wypada zaznaczyć, że nazwa zmieniła się na ŻKS ROW Rybnik)".

Po drugiej płycie wciąż jest pewne, że ska, reggae, rock steady i swing są ciągle żywe dla muzyków SSB z Żor i Rybnika. Istotnym dowodem na to jest także fakt, że to oni sami wydali ten krążek i nie poddają się w trudnych czasach dla muzyki ska, czy w ogóle jakiejkolwiek alternatywy muzycznej.

ZAMÓW ---> CD SARI SKA BAND - "Nic tak nie cieszy jak krzywda bliźniego"