Dezerter - nowa płyta już do kupienia.
2010-10-09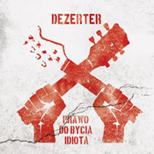 Dezerter powraca z pierwszym od 6 lat, studyjnym albumem. "Prawo do bycia idiotą" to trzynaste wydawnictwo zespołu zawierające dwanaście premierowych kompozycji, które są najlepszym dowodem na to, że Dezerter jest w doskonałej formie.
Tak o swoim nowym albumie mówią członkowie grupy: "Prawo do bycia idiotą to jedno z nigdzie nie zapisanych praw, z którego nasi obywatele tak chętnie korzystają. Jest to również tytuł nowego studyjnego albumu Dezertera. Jak zwykle zapraszamy bezmyślnych do refleksji, a myślących do zabawy."
Oficjalna premiera 11 października 2010, krażek można już zamawiać w naszym sklepie...

Album ukazał się w dwóch wersjach: klasycznej CD i limitowanej CD+DVD, gdzie na krążku DVD znajdziecie materiały video, które powstały przy okazji nagrywania płyty oraz fragment koncertu Dezertera z Festiwalu Jarocin 2010 (w tym utwory z nowej płyty).

Zamów!!!
---> CD DEZERTER "Prawo do bycia idiotą"
---> CD + DVD DEZERTER "Prawo do bycia idiotą