Deuter powraca...
2011-11-18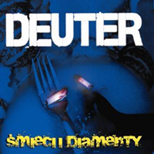 Deuter powstał w 1980 roku z inicjatywy Pawła "Kelnera" Rozwadowskiego i od początku swojej działalności związany był z warszawskim klubem "Hybrydy", stanowiącym w późniejszym okresie przystań dla wielu punkowych formacji. Tam też miały miejsce pierwsze koncerty zespołu. Wiosną 1982 grupa odbyła trasę koncertową "Rock Galicja" po południowej części Polski wspólnie z Dezerterem i TZN Xenna. Muzycy Deutera swoje koncerty wzbogacali w tym czasie krótkimi projekcjami filmowymi zrobionymi na taśmie 8 mm. Latem zagrali krótką trasę z zespołem Republika, a jesienią wystąpili w Sali Kongresowej m.in. u boku TZN Xenna.W 1983 zespół zawiesił działalność, a Kelner z Robertem Brylewskim utworzyli grupę Izrael.

Deuter powrócił w 1984 roku. Choć jego aktywność do zawieszenia działalności w 1989 roku cechowała głównie ciągła zmiana składów to jednak zespołowi udało się zaistnieć singlem "Średniowiecze", a w 1987 roku w rzeszowskim studio RSC powstał materiał na płytę pt. "1987" wydaną rok później przez Polskie Nagrania. Zawarty na niej materiał odbiegał jednak dość znacznie od tego co fani znali z przeszłości.

W 1989 roku podczas festiwalu w Jarocinie Deuter zagrał swój ostatni koncert.

W roku 1995 na rynku pojawił się wspomnieniowy album zatytułowany "Ojczyzna Dumna" z nagraniami z lat 1981-86, a Dezerter zrealizował album o tytule "Deuter" sięgając po repertuar zaprzyjaźnionej kapeli i zapraszając do nagrań Kelnera.

Kolejna reaktywacja zespołu miała miejsce w roku 2000 ale przez przy lata aktywności Deuter pojawił się jedynie na kilku koncertach i ponownie zawiesił działalność, która wznowiona została w roku 2010.
W celu przypomnienia się fanom grupa sięgnęła po swoje najstarsze dokonania i staraniem wytwórni Nosie Annoys, wiosną 2011 pojawił się na rynku album zatytułowany "Ojczyzna Blizna" zawierający najbardziej archiwalne nagrania.

Zespół przystąpił także do realizacji nowego materiału, który na przełomie 2010 i 2011 roku nagrany został w krakowskim studio "Czakram-Tyndel Nastal Dreadhunter".
Krążek zatytułowany "Śmieci i diamenty" to 10 premierowych kompozycji Kelnera i Franza Dreadhuntera połączonych z przeszłością dwoma utworami z początków istnienia zespołu, tematyką i brzmieniem osadzone są w charakterystycznym dla Deutera ciężkim gitarowym klimacie. Kelner i Deuter zawsze uciekali stereotypom, eksperymentowali z innymi niż punk gatunkami. Na tej płycie również można znaleźć ślady tych eksperymentów.

Wydawcą płyty jest firma Fonografika. Premiera albumu 19 listopada 2011 ale już od teraz krążek można zamawiać w naszym sklepie….

Zamów ---> CD DEUTER – "Śmieci i diamenty"

Sprawdź także ---> CD DEUTER - "Ojczyzna blizna"